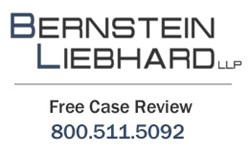 We continue to follow this proceeding very closely, as we are representing a number of clients in claims related to the GranuFlo recall. We look forward to substantial progress as the litigation moves into the new year.
New York, New York (PRWEB) December 23, 2013
More than 400 GranuFlo lawsuits (http://www.thegranuflolawsuit.com/ ) filed in the wake of last year's recall for GranuFlo and NaturaLyte dialysis drugs continue to progress in the federal multidistrict litigation underway in U.S. District Court, District of Massachusetts, Bernstein Liebhard LLP reports. According to a Joint Motion filed in the proceeding on December 16th, the parties are working on the deadlines pertaining to bellwether trials. The parties have asked that the deadlines be discussed during the proceeding's next Status Conference, which has been scheduled for February 3, 2014. (In re Fresenius GranuFlo/Naturalyte Dialysate Litigation, MDL No. 2428)
"We continue to follow this proceeding very closely, as we are representing a number of clients in claims related to the GranuFlo recall. We look forward to substantial progress as the litigation moves into the new year," says Bernstein Liebhard LLP, a nationwide law firm representing victims of defective drugs and medical devices. The Firm is currently offering free GranuFlo lawsuit evaluations to dialysis patients who allegedly suffered cardiac arrest, heart attacks, stroke, sudden cardiac death or other side effects within 72 hours of a dialysis treatment involving the use of GranuFlo of NaturaLyte.
Dialysis Lawsuits Involving GranuFlo and NaturaLyte
Both GranuFlo and NaturaLyte are dialysis concentrates manufactured by Fresenius Medical Care that are used to remove toxins from the blood during treatments. In March 2012, Fresenius Medical Care issued an Urgent Product Notification for both products that warned of dosage issues that could cause dialysis patients to suffer serious and catastrophic heart side effects. According to a New York Times report from June 2012, many doctors were not aware that GranuFlo and NaturaLyte were formulated differently than rival dialysis drugs. If this difference was not accounted for in prescribing the products, patients could develop a dangerous elevation of bicarbonate in their blood known as metabolic alkalosis. This condition increases the risk that dialysis patients may suffer heart attacks, strokes, sudden cardiac death, and other serious heart problems during or shortly after treatments.*
The U.S. Food & Drug Administration (FDA) ultimately granted Class I recall status to the Urgent Product Notification, which indicates GranuFlo and NaturaLyte posed a risk of serious injury and death. According to The Times, the agency also began investigating Fresenius Medical Care after it became aware of an internal memo circulated by the company to its in-network dialysis clinics in November 2011 that detailed the dosage issues associated with GranuFlo and NaturaLyte. The agency is trying to determine if Fresenius violated federal regulations by choosing not to issue a similar notice to any of the independent dialysis clinics it also supplied with the products at that time.
According to court documents, more than 430 dialysis lawsuits filed against Fresenius Medical Care since the GranuFlo recall are now pending in the proceeding underway in Massachusetts Federal Court. Others have been filed in a consolidated litigation established in Massachusetts' Middlesex County Superior Court. (In re: Consolidated Fresenius Cases, No. MICV2013-03400-O). All of the lawsuits similarly allege that Fresenius failed to provide adequate warnings regarding the risks associated with GranuFlo and NaturaLyte, and that the company continued to aggressively market the products even once it became aware of those risks.
Dialysis patients who suffered serious and catastrophic heart problems allegedly related to the use of GranuFlo and NaturaLyte may be eligible to file their own GranuFlo lawsuit against Fresenius Medical Care. To find out more about the litigation stemming from the GranuFlo recall, please visit Bernstein Liebhard LLP's website, or the Firm's Facebook page: https://www.facebook.com/granuflolawsuit. For additional information, and to arrange for a free case review, please call 800-511-5092.
*nytimes.com/2012/06/15/health/fda-investigates-fresenius-for-failure-to-warn-of-risk.html; New York Times, June 14, 2012
About Bernstein Liebhard LLP
Bernstein Liebhard LLP is a New York-based law firm exclusively representing injured persons in complex individual and class action lawsuits nationwide since 1993, including those who have been harmed by dangerous drugs, defective medical devices and consumer products. The firm has been named by The National Law Journal to the "Plaintiffs' Hot List," recognizing the top plaintiffs' firms in the country, for the past 11 consecutive years.
Bernstein Liebhard LLP
10 East 40th Street
New York, New York 10016
800-511-5092
ATTORNEY ADVERTISING. © 2013 Bernstein Liebhard LLP. The law firm responsible for this
advertisement is Bernstein Liebhard LLP, 10 East 40th Street, New York, New York 10016, 800-511-5092. Prior results do not guarantee or predict a similar outcome with respect to any future matter.
Contact Information:
Felecia L. Stern, Esq.
Bernstein Liebhard LLP
info(at)consumerinjurylawyers(dot)com
http://www.thegranuflolawsuit.com/
https://plus.google.com/115936073311125306742?rel=author