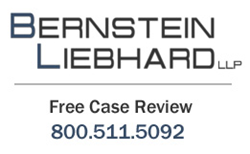 Our Firm is representing numerous GranuFlo lawsuit clients who have put forth claims that echo allegations contained in these lawsuits. We will continue to closely monitor these issues.
New York, NY (PRWEB) April 21, 2014
As GranuFlo lawsuits (http://www.thegranuflolawsuit.com/) continue to mount in courts around the country, Bernstein Liebhard LLP notes that a federal judge in Colorado has dismissed certain claims filed against the owner of dialysis clinics on behalf of plaintiffs who were allegedly injured or killed due to the use of GranuFlo or NaturaLyte concentrates during hemodialysis treatments. In an Order dated April 9th, Judge R. Brooke Jackson of the U.S. District Court, District of Colorado, ruled that plaintiffs could not pursue failure to warn and breach of warranty claims against DaVita Healthcare Partners Inc. because the dialysis provider was not involved in the manufacture of either product. However, Judge Jackson did find that plaintiffs' assertion that DaVita negligently failed to provide notification of their changing blood pH levels supported their claims of negligence. The plaintiffs' will also be able to pursue claims of fraudulent concealment against DaVita, as well as certain claims filed under the Colorado Consumer Protection Act that are not based on a duty to warn. (Thornton v. DaVita Healthcare Partners Inc., No. 13-563)
"Our Firm is representing numerous GranuFlo lawsuit clients who have put forth claims that echo allegations contained in these lawsuits. We will continue to closely monitor these issues," says Bernstein Liebhard LLP, a nationwide law firm representing victims of defective drugs and medical devices. The Firm is now offering free legal reviews to dialysis patients who were allegedly harmed by GranuFlo or NaturaLyte.
GranuFlo Recall
Both GranuFlo and NaturaLyte are dialysis concentrates manufactured by Fresenius Medical Care that are used to remove toxins from the blood during dialysis treatments. Both drugs were named in Class I recall in 2012, after they were linked to dosage issues that could cause dialysis patients to suffer serious and catastrophic heart side effects. A Class I recall is the U.S. Food & Drug Administration (FDA) most urgent safety notice, which indicates GranuFlo and NaturaLyte posed a risk of serious injury and death.
According to a New York Times report from June 2012, many doctors were not aware that GranuFlo and NaturaLyte were formulated differently than rival dialysis drugs. If dosage was not adjusted to account for this difference, a dialysis patient could experience a dangerous elevation of bicarbonate in their blood known as metabolic alkalosis, as well as heart attacks, strokes, and other cardiovascular events. The Times also reported that the FDA had launched an investigation of Fresenius Medical Care, after learning that the company had circulated an internal memo to its in-network dialysis clinics in November 2011 that detailed these issues. The agency is trying to determine if Fresenius violated any federal regulations by not issuing any type of notification to dialysis clinics outside of its networks at that time.*
Court documents indicate that at least 1,570 product liability lawsuits have been filed on behalf of individuals who allegedly sustained serious cardiovascular injuries related to the GranuFlo recall. The majority of these cases are currently pending in a federal multidistrict litigation underway in U.S. District Court, District of Massachusetts. All of the lawsuits similarly allege that Fresenius failed to provide adequate warnings regarding the risks associated with GranuFlo and NaturaLyte, and that the company continued to aggressively market the products even once it became aware of those risks. (In re Fresenius GranuFlo/Naturalyte Dialysate Litigation, MDL No. 2428)
Dialysis patients who suffered catastrophic cardiovascular problems, heart attacks, strokes, and sudden cardiac death, allegedly related to the use of GranuFlo and NaturaLyte may be eligible to file their own GranuFlo lawsuit against Fresenius Medical Care. To find out more about the growing GranuFlo recall litigation, please visit Bernstein Liebhard LLP's website, or the Firm's Facebook page: https://www.facebook.com/granuflolawsuit. For additional information, and to arrange for a free case review, please call 800-511-5092.
*nytimes.com/2012/06/15/health/fda-investigates-fresenius-for-failure-to-warn-of-risk.html; New York Times, June 14, 2012
About Bernstein Liebhard LLP
Bernstein Liebhard LLP is a New York-based law firm exclusively representing injured persons in complex individual and class action lawsuits nationwide since 1993, including those who have been harmed by dangerous drugs, defective medical devices and consumer products. The firm has been named by The National Law Journal to the Plaintiffs' Hot List, recognizing the top plaintiffs firms in the country, for the past 12 consecutive years. Bernstein Liebhard LLP is the only firm in the country to be named to this prestigious list every year since the list was first published in 2003.
Bernstein Liebhard LLP
10 East 40th Street
New York, New York 10016
800-511-5092
ATTORNEY ADVERTISING. © 2014 Bernstein Liebhard LLP. The law firm responsible for this advertisement is Bernstein Liebhard LLP, 10 East 40th Street, New York, New York 10016, 800-511-5092. Prior results do not guarantee or predict a similar outcome with respect to any future matter.
Contact Information:
Felecia L. Stern, Esq.
Bernstein Liebhard LLP
info(at)consumerinjurylawyers(dot)com
http://www.thegranuflolawsuit.com/
https://plus.google.com/115936073311125306742?rel=author