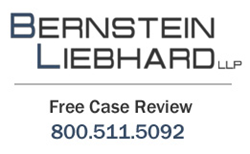 Our Firm continues to hear from individuals who allege serious harm caused by GranuFlo and NaturaLyte.
New York, NY (PRWEB) September 21, 2014
More than 60 new GranuFlo lawsuits (http://www.thegranuflolawsuit.com/) have been added over the past month to a federal multidistrict litigation (MDL) involving claims that allege serious cardiovascular injuries caused by the dialysis concentrate, Bernstein Liebhard LLP reports.
A Case List updated on September 15th shows 2,089 cases filed in a federal proceeding underway in the U.S. District Court, District of Massachusetts. These claims were filed on behalf of individuals who allegedly suffered cardiac arrest, cardiovascular death, sudden cardiac death and other serious heart problems as a result of treatment with GranuFlo or NaturaLyte, a similar medication used in dialysis.
When court records were updated on August 15th, 2,028 claims had been centralized in Massachusetts federal court, indicating that 61 new cases have been filed since then against the manufacturer of these products, Fresenius Medical Care. (In re Fresenius GranuFlo/Naturalyte Dialysate Litigation, MDL No. 2428)
"Our Firm continues to hear from individuals who allege serious harm caused by GranuFlo and NaturaLyte. We are not surprised to see the Massachusetts federal court litigation continuing to move forward," says Bernstein Liebhard LLP, a nationwide law firm representing victims of defective medical devices and drugs including GranuFlo and NaturaLyte. The Firm is offering free and confidential case reviews to individuals who allegedly sustained serious heart injuries after taking the acid concentrates.
GranuFlo Lawsuits
Dialysis lawsuits now filed in the District of Massachusetts allege injuries that occurred prior to a NaturaLyte and GranuFlo recall issued two years ago by the U.S. Food and Drug Administration (FDA). Categorized as Class I, the federal agency's most serious type, the recall was announced in June 2012 after cardiovascular side effects of these medications were determined to be serious and life-threatening. Two months earlier, Fresenius Medical Care issued an Urgent Product Notification about the medications, in which the general public was warned that they contain an elevated amount of an ingredient the body converts to bicarbonate, which raises the body's pH levels and may lead to a condition referred to as metabolic alkalosis. According to the safety alert, this condition may be associated with heart problems.
Shortly after the FDA recall involving GranuFlo and NaturaLyte, it was reported by the New York Times that the federal agency had begun to investigate Fresenius. This followed revelations that the company sent an internal memo in November 2011 to physicians operating in its treatment centers that instructed them to adjust dosages of the acid concentrates.
Individuals who allegedly suffered cardiac arrest, cardiovascular death, sudden cardiac death or cardiopulmonary arrest within 72 hours of undergoing a dialysis treatment may be entitled to compensation for their injuries. Learn more about lawsuits filed after the GranuFlo recall on Bernstein Liebhard LLP's website, or the Firm's Facebook page: https://www.facebook.com/granuflolawsuit. For additional information, and to arrange for a free case review, please call 800-511-5092.
*nytimes.com/2012/06/15/health/fda-investigates-fresenius-for-failure-to-warn-of-risk.html; New York Times, June 14, 2012
About Bernstein Liebhard LLP
Bernstein Liebhard LLP is a New York-based law firm exclusively representing injured persons in complex individual and class action lawsuits nationwide since 1993. As a national law firm, Bernstein Liebhard LLP possesses all of the legal and financial resources required to successfully challenge billion dollar pharmaceutical and medical device companies. As a result, our attorneys and legal staff have been able to recover more than $3 billion on behalf of our clients. The Firm has been named by The National Law Journal to the Plaintiffs' Hot List, recognizing the top plaintiffs firms in the country, for the past 12 consecutive years. Bernstein Liebhard LLP is the only firm in the country to be named to this prestigious list every year since it was first published in 2003.
Bernstein Liebhard LLP
10 East 40th Street
New York, New York 10016
800-511-5092
ATTORNEY ADVERTISING. © 2014 Bernstein Liebhard LLP. The law firm responsible for this advertisement is Bernstein Liebhard LLP, 10 East 40th Street, New York, New York 10016, 800-511-5092. Prior results do not guarantee or predict a similar outcome with respect to any future matter.
Contact Information:
Felecia L. Stern, Esq.
Bernstein Liebhard LLP
info(at)consumerinjurylawyers(dot)com
http://www.thegranuflolawsuit.com
https://plus.google.com/115936073311125306742?rel=author