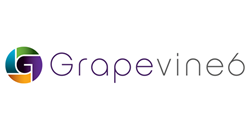 "Our customers are truly at the forefront of the digital transformation of the customer relationship and this event creates an opportunity for them to connect and share," said Mike Orr, COO and co-founder of Grapevine6. "I'm excited to see them all in one room!"
TORONTO (PRWEB) October 01, 2019
Grapevine6, a mobile-first, enterprise content engagement platform for digital selling, will host a two-day client symposium, October 2 -3, 2019, in Toronto's Distillery District. During the event, Grapevine6 will welcome more than 40 social selling experts from North America's largest financial services firms to discuss the future of social sales engagement.
"Our customers are truly at the forefront of the digital transformation of the customer relationship and this event creates an opportunity for them to connect and share," said Mike Orr, COO and co-founder of Grapevine6. "The best part of my job is working with the smartest leaders in digital and sales. I'm excited to see them all in one room!"
The two-day event will include presentations, panel discussions and interactive sessions from leading digital transformation and social selling subject matter experts. Topics include: maximizing ROI; building an authentic content strategy; managing risk; influencing and supporting your field force and measuring success.
"We are thrilled with the outstanding response we've received for this inaugural event," said Avi Pollock, president of Grapevine6. "The symposium will offer attendees a firsthand look at the trends and unique challenges faced by top financial services firms who are succeeding in the social engagement space."
Interested in learning more? Follow Grapevine6 on LinkedIn, Twitter, Facebook, or Grapevine6.com and be the first to hear key insights from the conference.
About Grapevine6
Grapevine6 is a patented social and digital sales engagement platform that accelerates sales and marketing efforts. Launched in 2013, Grapevine6 uses artificial intelligence to provide the content that moves sales opportunities through the pipeline in a more efficient and effective way. Grapevine6 solves the content challenges faced in deploying employee advocacy, content marketing and social selling, and works with existing sales and marketing investments to increase ROI. The company was recently designated a Leader by Forrester in The Forrester New Wave™: Sales Social Engagement Tools, Q2 2019. Headquartered in Toronto and led by an award-winning team of engineers, Grapevine6 is now powering the global social selling program at some of the largest technology and financial services companies in the world. For more information visit Grapevine6.com.