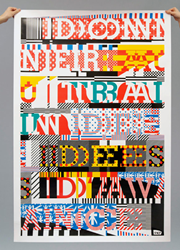 ... collaboration, risk taking, and relationship building are the foundational elements of a successful practice.
Los Angeles, CA (PRWEB) June 03, 2014
Otis College of Art and Design's MFA Graphic Design Program hosts its 4th annual Design Week June 15-21, 2014. A core component of Otis' MFA Program, Design Week introduces students to the international design community. This year, Otis welcomes six recognized graphic design studios from four different countries who will host workshops over the course of the week and give one-collective lecture open to the public on the evening of Wednesday, June 18, 2014, at 7PM, on Otis College of Art and Design's Elaine and Bram Goldsmith Campus, located at 9045 Lincoln Boulevard, Los Angeles, CA 90045.
In addition to current and incoming Otis MFA candidates, the department welcomes students from other institutions to participate during the week. Select schools include: Sint Lucas - Gent, Sint Lucas - Antwerp, Cal Arts, and Lucerne School of Graphic Design.
"Each year we kick off our summer session with Design Week. This event sets an energetic tone for the entire semester," says Kali Nikitas, Founding Chair of the MFA Graphic Design program at Otis. "It is a profound experience for our students to engage with designers and other students who introduce diverse perspectives and new ways of thinking and practicing in a global world. This transformative experience shapes the culture of the department and confirms for our students that collaboration, risk taking, and relationship building are the foundational elements of a successful practice."
PARTICIPATING STUDIOS - DESIGN WEEK
Niessen @ de Vries, Amsterdam
Cox and Grussenmeyer, Antwerp
Type Radio, Rotterdam
Feixen Studio, Lucerne,
Project Projects, New York
Lava Design Agency, Amsterdam
PUBLIC LECTURE
Wednesday, June 18, 2014, 7PM
Otis College of Art and Design
9045 Lincoln Boulevard, Los Angeles, CA 90045
Elaine and Bram Goldsmith Campus – Forum
Admission – Free
Otis College of Art and Design's 4th annual Design Week is made possible in part with generous support from The Consulate General of the Netherlands and Swissnex.
UPCOMING VISITING ARTISTS – SUMMER 2014
Linked by Air, New York
Los Hopper, Los Angeles
Greenblatt Wexler, New York
Yasmin Khan, Long Beach
Denise Gonzalez Crisp, North Carolina/Los Angeles
Stefan Schaefer, Amsterdam
Davey Whitcraft, Amsterdam
ABOUT GRADUATE GRAPHIC DESIGN PROGRAM
The limited-residency MFA in Graphic Design at Otis College of Art and Design provides a rigorous and challenging academic and studio environment for candidates interested in enhancing their current professional practice.
Participants select from three individual themes or tracks: social responsibility of the designer in society, typography and type design, or advancing the discipline through theory and innovation. Each track speaks directly to educating conscientious individuals who recognize the value of design and its role in society. Coursework is comprised of research, readings, studio projects (assigned and self-directed), and a final project. The department provides students with instruction by core faculty, visiting lecturers, and visiting artists who are recognized nationally and internationally in their design and art practice.
The program is two years and two months running for three consecutive summers with two part-time spring semesters that can be completed on or off-site. Incoming students begin the program at the start of each summer session.
Each summer sessions begin with "Design Week:" multiple workshops running simultaneously and hosted by internationally recognized visiting artists whose practice exemplifies alternative practices.
The program hosts weekly lectures, open to the public, by artists and designers from Los Angeles and beyond.
Follow the MFA Graphic Design Program on tumblr: otismfagraphicdesign.tumblr.com.
ABOUT OTIS COLLEGE OF ART AND DESIGN
Established in 1918, Otis College of Art and Design is a national leader in art and design education. The College mission is to prepare diverse students of art and design to enrich our world through their creativity, skill, and vision. Alumni and faculty are Fulbright, MacArthur, and Guggenheim grant recipients, Oscar awardees, legendary costume designers, leaders of contemporary art movements, and design stars at Apple, Abercrombie & Fitch, Pixar, DreamWorks, Mattel, Nike, and Disney.
Otis enrolls approximately 1,100 full-time students, and offers Bachelor of Fine Arts degrees in Architecture/Landscape/Interiors, Digital Media (Game and Entertainment Design, Animation, and Motion Design), Fashion Design, Communication Arts (Graphic Design, Illustration, and Advertising Design), Fine Arts (Painting, Photography, and Sculpture/New Genres), Product Design, and Toy Design. Otis also awards the Master of Fine Arts degree in Fine Arts, Graphic Design, Public Practice, and Writing.
The five-acre main campus is located on L.A.'s Westside near the beach and LAX; Fashion Design is in the heart of the downtown fashion district; and the Graduate Studios are on the Creative Corridor in nearby Culver City, and in the 18th Street Arts Center in Santa Monica.
2,700 adults and children participate in Continuing Education art and design classes and workshops.
Additional information is available at http://www.otis.edu.