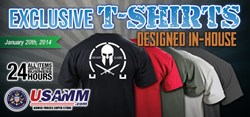 ...Our aim with these products is to offer a variety of really cool shirts for military folks.
Milwaukie, Ore. (PRWEB) January 21, 2014
Local military uniform superstore, USA Military Medals, is unveiling a large selection of in-house designed graphic t-shirts, here, today, offering a larger, more original variety in stock than ever before.
The shirts - including designs by our in-house artist ranging from branch-specific to simple service pride themed graphics - are available in various sizes and are 100% soft spun, pre-shrunk cotton.
"There are plenty of civilian, active-duty and veteran service members out there who are looking for military-relative t-shirts," said USAMM LLC President of Business Operations, Jared Zabaldo.
USAMM owns and operates USA Military Medals along with various other e-commerce uniform stores
"Be it for working out in, everyday wear or just something extra to have on-hand, our aim with these products is to offer a variety of really cool shirts for military folks," said Zabaldo.
Featuring bold and eye-catching designs, UMM's line of tees offers something for everyone, be they veteran, civilian or active duty service members.
"We want our customers to be able to easily hop into civilian attire that they actually want to wear," said Zabaldo.
UMM is offering multiple-designs, which are all produced in-house and ship within hours of ordering. These t-shirts are available now, starting at $15.95.
About USA Military Medals:
USA Military Medals (http://www.usamilitarymedals.com/) is an internet-based company formed in 2005, carrying more than 14,000 dress uniform products in stock and specializing in custom military medal and military ribbon rack production with their state-of-the-art rack builder. USA Military Medals also operates a brick and mortar store servicing local military personnel and veterans.