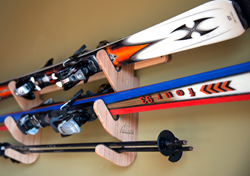 Grassracks is just a few American guys trying to raise the bar for equipment storage and home furnishing by providing quality, eco-friendly products to do so.
(PRWEB) November 26, 2014
The question of proper equipment care and storage was a befuddling one before Grassracks appeared on the scene and showed us the guiding light just a few years ago.. and they're at it again. Just in time for the holidays, Grassracks is releasing their 2015 rack designs complete with some furniture items that will leave consumers begging for more.
In 2010, Grassracks burst into the extreme sports market challenging extreme athletes across the board to respect and view their equipment as a displayable piece of art rather than just a means of shredding powder, ripping waves, and cruising miles of gently sloping asphalt that covers our country. Their mission is simple: make great products, be a good company, and care for the environment. Soon after introducing the market's premium board racks and displays, they expanded their gaze to include furniture. With the same high-quality bamboo material and designs, they seek to offer a simpler and better looking alternative to current 'easy-assembly', low cost furniture manufacturers.
The three nature-loving, extreme sport-ing founders have redesigned their racks to accommodate a larger variety of boards, bikes, and skis with, most notably, a new design to fit Stand Up Paddleboard race boards and a 100% bamboo coffee table free of glues, screws and nails called (in the interim) The Samurai Coffee Table.
The brand has also been working with different size retail shops to create a progressive set of retail terms with their new SIGI (Show It & Grow It) program as their bread and butter. SIGI allows shops to keep a smaller stock in-store and make a percentage of each sale the shop refers to Grassracks' website.
If you don't know Grassracks, they're worth a look. While they focus on surf, snow, bike, skate, and ski, their lines of high-quality, eco-friendly bamboo racks and furniture ensures that there's something for everyone. To see their products and what they're doing, visit http://www.grassracks.com and follow them on their social media channels (@Grassracks). During the holidays they will be running a series of discounts, promotions, and giveaways that are not to be missed!