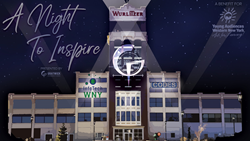 Gratwick's goal is to establish a digital media fund that invests in local artists and innovators.
BUFFALO, N.Y. (PRWEB) April 17, 2019
On Friday, May 10th, Gratwick Productions will host a vintage Hollywood-themed event to introduce their plans to bring a digital media fund to the community. The 21st-century studio model relies on emerging technologies, like blockchain and utility currency, to provide creators with forward-thinking marketing and direct distribution strategies.
Gratwick invites local artists, entertainment professionals, community leaders, and fans of ethical entertainment to join them at the Wurlitzer Events for a live-streamed celebration of the past, present, and extremely bright future of entertainment in Western New York.
The event will introduce innovative brands and businesses from across the region that are all working to inspire and support the next generation of artists. InfoTech WNY, Codes Socks, Momentum Buffalo, and Twisted-Rope are just some of the Gratwick allies working to develop cutting-edge entertainment and technology for their community.
Gratwick's goal is to establish a digital media fund that invests in local artists and innovators through their #BuffaloStarSearch program. Western New Yorkers are encouraged to nominate their favorite artists in the area by tagging them with Gratwick on Twitter using the #BuffaloStarSearch hashtag. Artists and creators are invited to submit a project for consideration by following the instructions on the company's website.
An Augmented Reality mystery raffle powered by Twisted Rope will provide attendees the chance to win prizes including autographed memorabilia and gift cards from local establishments. The event will culminate with live performances by local artists Paris Calibur and 'Mom Said No'. The Buffalo band's debut album was produced by Goo Goo Dolls bassist Robby Takac.
A limited number of VIP and free general admission tickets are available now. Every VIP ticket purchased will be entered into a raffle for the season tickets. Those unable to join the Wurlitzer event are invited to still celebrate with Gratwick, win prizes, and support YA-WNY by interacting with the live-stream on Facebook, Twitch, Twitter, and YouTube.
For information about sponsorship opportunities or how to become a Gratwick ally, contact Michael at michael.dirmyer@gratwickproductions.com.
Gratwick Productions
Gratwick is a transparent, audience-driven studio system founded by filmmaker and entrepreneur Kris Hulbert to provide creators and innovators an ethical infrastructure of finance, marketing and distribution.
YA-WNY
Young Audiences of Western New York's mission is to make the visual, performing, and literary arts a part of young people's lives in order to enhance their development as creative and productive human beings. They provide services in Allegany, Cattaraugus, Chautauqua, Erie, Genesee, Niagara, Orleans, and Wyoming counties. Every day, they fulfill their mission through residencies, workshops, and performances in educational, cultural, and community centers. Young Audiences of Western New York was established in 1962 and will be celebrating 60 years of service in 2022.