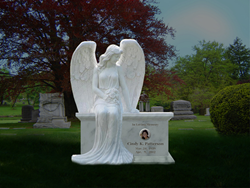 Buying headstones online is a great way to save money in your time of need. It may save you hundreds or thousands of dollars.
Toronto, Ontario, Canada (PRWEB) June 15, 2015
Monuments International Inc, a BBB accredited headstone company, and Susan Cao are pleased to announce that the company has released a wide range of new headstones for graves designs during this past quarter. This fact makes shopping online for memorial stones and other items associated with the final resting place of a loved family member easier than ever before.
According to spokesperson Susan Cao, "The huge online catalog available on our website is sure to spark some ideas about how to best remember a loved one. We carry every type of memorial stones imaginable. You may consider angel headstones, angel memorial benches or sculptures of various kinds. The headstone for graves selections may be of granite or marble."
She continues: "Buying headstones online is a great way to save money in your time of need. We hear stories nearly every day from customers whose cemeteries have quoted hundreds or thousands of dollars higher than those we are able to offer. During a time of grief, families make decisions that cost them far more than they would pay. Choosing stone memorials online is the less expensive way to go. The customer doesn't have to sacrifice quality to get a budget friendly price."
For the increasing number of people who are planning and paying for their services in advance, browsing for the type of monuments online offers many more choices. They may want a discreet plaque or memorial plate or a full sculpture with a particular theme in mind. The selections available are many and varied. A company representative works personally with the cemetery on each order to assure that the headstone meets cemetery regulations and to arrange for installation (which is usually charged separately by the cemetery). Buying a headstone online is typically very easy.
Learn more about memorial stones and the selection available online by visiting the web pages at http://www.monumentsusa.com today. Members of the press and others who have additional questions about the contents of this specific press release are encouraged to contact Susan Cao at the location provided below.
Contact Person Name: Susan Cao
Company Name: Monuments International Inc.
Address: 3986 Teakwood Drive, Mississauga, Ontario, Canada L5C 3T5
Contact Telephone Number: 1-800-742-0496
Email: susan(at)MonumentsUSA(dot)com