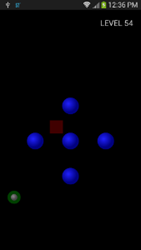 Albuquerque, New Mexico (PRWEB) March 07, 2014
Phantom Data Services is pleased to report a record number of downloads for its Android gravity puzzle game, Gravitate 2.0. In the past month, Gravitate received a record number of over 1100 downloads and an average rating of 4 stars on Google Play. Previous months showed very slow growth. The recent uptick in downloads can be attributed to a recent version release, as well as a more aggressive marketing strategy by Phantom Data Services.
Gravitate is a unique gravity puzzle game designed for Android platforms. The goal of the game is to launch a satellite at a target while dodging planets, asteroid fields, and black holes that may stand in the way. The planet gravity will pull the satellite off course, making game play extremely challenging. By adjusting launch speed and direction, the satellite can slingshot around the obstacles to accomplish the goal. A custom-developed physics engine delivers realistic gravitational effects.
Gravitate has a simple user interface, which makes it easy to learn and play. However, the gravitational effects make many of the levels extremely challenging. Fortunately, the game is designed to help players learn as they play by trial-and-error. Levels start out simple, then slowly add more and more complex obstacles.
The game is designed to be a casual experience for the player. There are no limits on time or attempts for each level. A simple counter records the players number of attempts, so the player can track their best score.
Gravitate 2.0 currently includes 125 basic levels and 10 advanced levels, with more levels and features in development.
Gravitate is a free app, available for download from the Google Play Store: https://play.google.com/store/apps/details?id=com.phantomdataservices.gravitate.app1.