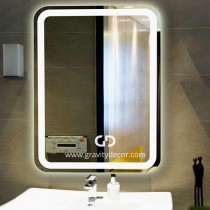 Love Your Place
Columbus, Ohio (PRWEB) June 22, 2016
Gravitydecor.com aims to assist in transforming the look of home decorating, such as bathroom décor, living room décor, and kitchen décor. Discover great finishing pieces on our website, ready to captivate the senses and arouse a feeling of renewal with every look.
Gravity Decor products invite modern flare into homes with light, airiness, and clean lines. Gravity Decor products are made with stylish performance in mind, providing unparalleled options for home decoration & remodeling favorite areas. Whether a mirrored cabinet for storage, or shelving that flaunts form and function, Gravity Décor products are the very finest on the market.
The collections are assembled with affordability in mind, as well as compelling designs that are unique and captivating. Gravity Decor offers a wide variety of cabinets, shelves, and mirrored accessories for almost any room in a home. Within each type, there are many choices to select from. It is easy to find the elegance, size, and color that fits each person's style and personality. Product offerings include:

Glass Cabinets
Corner Glass Cabinets
Decorative Mirrors
LED Mirrors
LED Glass Cabinets
LED Mirror Cabinets
Glass Shelves
Coffee tables
Style and space are of utmost importance! Glass cabinets are a great way to add storage space to a bathroom oasis. The ergonomic and stylish wall glass cabinet is designed to be placed in the bathroom or used as additional wall storage wherever it is needed most.
Taking cues from cutting-edge fashion to create up-to-date interiors, Gravity Décor produces unique, extra-spacious corner glass cabinets designed to be fitted within the corner of the bathroom, providing clever design. A stainless-steel corner shelf saves space while maximizing storage area in smaller rooms, and is very good for waterproofing.
Gravity Décor makes decorating homes easy, reasonable, and stylish. There is a wide selection of decorative backlit mirrors in different shapes and sizes for living rooms and dining rooms, in addition to bathroom illuminated mirrors. Decorative wall mirrors are an easy way to enhance the beauty of a home's walls with minimal financial investment.
Gravity Decor is focused on making special pieces, characterized by thoughtful design and style. LED bathroom mirrors are necessary for putting on makeup or shaving at all times of day or night without the need for extra illumination. An LED mirror solves this problem by placing the light right where it is needed.
Alongside unique and ever-changing selection of home décor, Gravity Décor has exclusively designed LED glass bathroom cabinets that make the most of the vacant space within the bathroom. The cabinets stylishly store everything from towels, to lotions, to soaps on its shelves, and also work to enhance illumination.
Gravity Decor blends classic and contemporary styling for a stunning look that enriches the beauty of any bathroom. The LED mirror cabinet design offers considerable storage. Experience enhancement of bathroom lighting in addition to outstanding quality of bathroom mirrors.
Gravity Decor products are sure to inspire and make a great impression. Glass bent shelves can be used for books, DVDs, ornamental pieces, and in bathrooms as well. Exclusive decorative wall shelves can add an up-to-date touch to any wall. Wall glass shelves are modern in style and versatility, come in many styles, and are simple to clean.
Small coffee side tables are made in different designs, with special materials and in various colors. Coffee tables and occasional cocktail tables will blend perfectly into home spaces, regardless of style. The designs are simple, elegant, and reasonable, making them a practical for any style of home décor. Coffee table, made with tempered glass, is more long-lasting than it appears, and will add a lot of style to home interiors. The selection of coffee tables compliments many home interior styles.
The catalog items are carefully curated for a wide variety of applications, and always include new up-to-date models to ensure the best in contemporary decor pieces.
Gravity Decor provides the freedom to select from a large variety of stylish, high-quality products that cater to individuality, creativity, and sense of design, without compromising great quality and value. Ordering is a breeze with online instructions, and knowledgeable call center personnel are on hand to reply to questions, help with suggestions and advice, or take orders at any time, during official hours.
Prices are kept cost-effectively low to ensure availability to the public, as well as non-public clients working on home renovations and larger projects, such as hotel and restaurant installations and refurbishments. Regardless of finances, Gravity Decor has the cabinets, shelving, and accents customers are seeking, as well as excellent service, in addition to outstanding quality and value.
Visit Gravity Décor's website for valuable information about products, rates, and recommendations. Gravity Décor makes home décor dreams a reality! Contact the company today with any questions, or for further information on product offerings.
Please contact the professionally-trained home decor consultants at Gravity Decor at 1-800-663-6002.