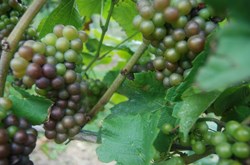 The FarmCoast captures warm Gulf Stream waters for a relatively long growing season that allows vintners to produce fine white and sparkling wine varietals.
Sherborn, MA (PRWEB) February 18, 2014
Bike tour operator, Great Freedom Adventures, offers cyclists and wine enthusiasts alike a unique opportunity to enjoy both stellar biking and a bit of wine tasting on the new Coastal New England Wine Trail Bike Tour. Great Freedom Adventures is the only operator offering fully supported winery bike tours in southern New England's beautiful FarmCoast region. The five-day, four-night itinerary follows the Coastal Wine Trail through Rhode Island and Massachusetts with scheduled 2014 departures on June 8 and October 13.
The FarmCoast's predominately flat and lightly traveled roads make biking a sheer pleasure as do the verdant landscapes and dazzling seascapes. Each day, stops are made at scenic vineyards for tastings of the estate grown wines. "The FarmCoast captures warm Gulf Stream waters for a relatively long growing season that allows vintners to produce fine white and sparkling wine varietals," says Jeanne Rummel, Great Freedom Adventures founder.
In contrast to the region's unpretentious pastoral beauty, guests also experience the opulent splendor of the Gilded Age while pedaling past Newport's awe-inspiring mansions. The itinerary includes oceanside routes that combine the natural beauty of dramatic seascapes with manmade architectural masterpieces to create an unsurpassed cycling experience.
Guests spend two nights in the heart of Newport's Old Quarter at an inn listed on the National Register of Historic Places and two at a waterfront mansion turned luxurious retreat. Dinners include offerings by some of the region's best chefs with foods grown or raised on the farmland along the cycling routes or fished from the local waters.
The tour is priced at $2,095 per person based on double occupancy and includes lodging, most meals, wine tastings, a tour of the famous Breakers mansion, a lantern-light walking tour of historic Newport, bike and helmet rental, an oceanside nature walk, daily snacks and drinks, guides, van support, luggage transport, maps and cue sheets and transport to and from the Providence airport or train station.
Participants bike from 6 to 43 miles per day with additional biking offered for avid cyclists. For more information and the full daily program, please see: Coastal New England Wine Trail Bike Tour.
About Great Freedom Adventures
Great Freedom Adventures offers bike tours and multi-sport adventures in New England and New York regions possessing a unique diversity of natural beauty and cultural interests. These distinctive tours include a wealth of additional activities such as kayaking, hikes, nature walks, history tours, sunset sails, wine and beer tastings, demonstrations and more, providing guests with a full-sensory experience and an insider's perspective. The tour packages include upscale lodging, most meals, side excursions, admissions, region-specific costs, bike rentals, maps, guides and van support. Scheduled tours are three to six days in duration and custom and private tours are available. Great Freedom Adventures also runs single- and multi-day corporate outings, team-building and fundraising events. Please see the website for additional information and for specific details on each tour. http://www.GreatFreedomAdventures.com.