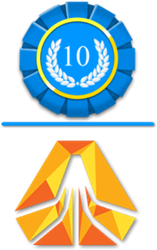 Charlotte, North Carolina (PRWEB) March 17, 2014
The popular web design rating platform 10 Best Design, has just released it's latest top ten list of the best web design firms.
Skookum placed number five in this list, right behind The Creative Momentum, Blue Fountain Media, CLiKZY Creative, and Forix (in descending order). The web design firm based in Charlotte, North Carolina scored an impressive 97.3% on the rating scale used at the website. According to the review and rating of Skookum, this web design firm has much potential to leap to the top in the upcoming years.
10 Best Design stated that Skookum can help with just about anything a client may need for a website. Skookum's experience in the web design field really won them some extra credit in this evaluation, as not many other firms can claim nearly as much practice at the art. Not only is the company itself highly experienced, but it's workers are also masters at what they do.
The evaluation also stated that Skookum would be a fantastic option for any size of project. No matter how large or small, they can handle it. The employee's at Skookum also work with clients to help personalize project to ensure that it is exactly what they want, giving them yet another advantage over competing web design firms in the customer satisfaction field.
Logo creation is where Skookum really stood out from the crowd. Their use of in house graphic artists gives them a superior edge in designing logos and layouts of websites. And like the other employee's of Skookum, clients can follow the artists every step of the way and add input about what they want in the design.
Skookum also uses innovative and ground breaking development techniques which proves to be very beneficial for the customer. After receiving the finished website, it is programmed in such a way that is easily modified, fast, and compatible with almost every system. All these fantastic features make it clear why 10 Best Design named Skookum a Best Web Design Firm, and why the web design firm has a bright future ahead of it.