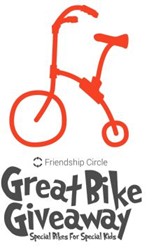 Cayenne won a trike last year and she went from not being able to ride more than a few feet to riding all over our neighborhood. This has made riding bikes with family and friends so enjoying for her.
West Bloomfield, Michigan (PRWEB) February 21, 2017
Friendship Circle has launched the 6th annual Great Bike Giveaway. The Great Bike Giveaway is an annual national campaign that strives to provide as many bikes as possible to children and teens with special needs. Participants will have one month to earn an adaptive bike through fundraising efforts using an online crowdfunding platform.
More than 74 million kids across the U.S. ride bikes. It's a quintessential part of childhood. Sadly, a key group of children are excluded from the joy and independence of bike riding. Many children with special needs miss out on that essential childhood experience because their physical or cognitive limitations make riding a traditional bike impossible. The high cost of adaptive bikes makes the dream of riding a bike unreachable for many children with special needs. Many families cannot afford to spend hundreds or thousands of dollars on a bike and unfortunately, insurance companies refuse to cover the costs.
Friendship Circle works with adaptive bike companies from around the United States to secure discounted pricing, making it cost-effective for families to earn appropriate bikes for their children. Adaptive bikes range in size, capability, and price making it easy for every family to find the bike that best meets their child's needs. In just 5 years, Friendship Circle has provided over 900 children with adaptive bikes and the experience of riding their very own bike.
In order to participate in the Great Bike Giveaway families, or participants, will be required to complete a registration form and choose the bike they wish to fundraise for. To view a full list of available bikes and rules, or to register, please visit bikes.friendshipcircle.org
About Friendship Circle
Friendship Circle is a non-profit organization that provides programs and support to the families of individuals with special needs. In addition to assisting individuals with special needs, Friendship Circle brings together teenage volunteers and children with special needs for hours of fun and friendship. These shared experiences empower the children, our special friends, while enriching the lives of everyone involved. Learn more and see our available programs at http://www.friendshipcircle.org