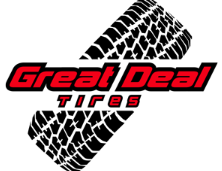 When you know how to correctly change a flat tire, you are improving your safety and the safety of other passengers and vehicles
Pittsburgh, Pennsylvania (PRWEB) October 25, 2018
Great Deal Tires has published a comprehensive infographic entitled "Everything You Need to Know About Flat Tires" to provide consumers the information needed to know about flat tires.
With this infographic, Great Deal Tires covers material drivers should know about the basics of a flat tire, including both proactive and reactive information. To accurately educate drivers, the infographic provides precise information including the top causes of a flat tire and how to change a tire.
From the driveway to the freeway, flat tires can occur anywhere. The top causes of flat tires come from extreme temperatures, hitting foreign objects, road conditions, and leaks in the valve system. If you have the proper equipment and instructions, changing a flat tire is a simple process. One of the most important steps is choosing a level area away from traffic and turning on the parking brake. Once you have the basic foundation, you will be able to avoid certain flat tire causes and know how to change a flat tire when it occurs.
"Knowing the steps for changing a flat tire is crucial," said Great Deal Tires CEO Joey Kerle. "All drivers should know how to change a tire because flat tires happen to everyone. When you know how to correctly change a flat tire, you are improving your safety and the safety of other passengers and vehicles."
About Great Deal Tires
Great Deal Tires is an online tire company. Focused on providing consumers with quality products at low prices, they offer several shipping options to customers around the United States. To best meet their customers' needs, they supply tires for a variety of vehicles, such as a car, truck, or SUV, and specialty vehicles such as ATVs, commercial grade, motorcycles, and tractors.