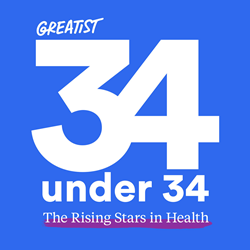 New York, New York (PRWEB) November 09, 2016
Greatist, the leading wellness site for millennials, is turning traditional media on its head by bringing a positive voice to health and wellness, instead of the traditional prescriptive tone and unrealistic goal-oriented narrative that exists among traditional health brands.
On a mission to empower everyone, everywhere to live with a healthy attitude, Greatist, announced today the launch of 34 Under 34: The Rising Stars in Health. This cross-platform initiative highlights the next generation of innovators who are transforming the fitness landscape and revolutionizing the way consumers think about health. Through 34 Under 34, Greatist will highlight trendsetters and fitness pros and share their stories, from their challenges to their success, as they work to evolve current society norms. The campaign will run from November 8 to December 31, 2016.
"There's been a fundamental shift in the way we think about health and wellness," said Derek Flanzraich, Greatist Founder and CEO. "This generation understands the long-term value of taking care of themselves and is doing so on their own terms. Our list of 34 rising stars in health shines the spotlight on innovators leading this movement."
34 Under 34 will dive into various categories across health and wellness such as Activism, Movement, Healthy Tech, and Mental Health. Featured notable entrepreneurs include:
Jessamyn Stanley - a body positive advocate who uses high-energy yoga as a way to move past mental and emotional barriers, and inspire others to do the same.
Chloe Coscarelli - the first-ever vegan chef to win a culinary competition, she encourages people to adopt a vegan lifestyle by making healthy and plant-based dishes available to all through her restaurants and cookbooks.
Sarah Larson Levey - a hesitant yogi who felt intimidated by the traditional yoga scene and its bright lights and fit clientele, she started Y7, a candlelit studio with a beat-bumping, hip-hop vinyasa flow that lets clients practice on their own terms.
To explore the full program go to http://www.greatist.com/34-under-34
ABOUT GREATIST
Greatist is a rapidly growing, award-winning media company on a mission to give everyone a healthy attitude. Founded by CEO Derek Flanzraich, Greatist publishes evidence-backed content with an authentic voice, establishing itself as a deeply trusted lifestyle authority for a loyal community of millions. Greatist empowers its readers, brand partners, and employees to embrace our slogan, and love what's good for you. Launched in 2011, Greatist is headquartered in New York City. Find more at Greatist.com.
For inquiries, please contact press(at)greatist(dot)com.