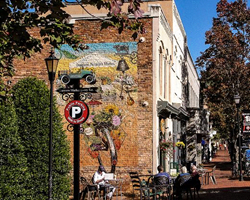 Truly great Main Streets are the heart and soul of the small business community...the spirit of a town.
Raleigh, NC (PRWEB) March 26, 2014
Now, through March 28, self-appointed brand ambassadors for small towns, Main Streets, and public gathering spots across North Carolina are invited to submit their most outstanding Main Streets or public places, particularly those hidden gems often overlooked in the state to Great Places NC. The Great Places and Great Main Streets nominations give recognition to communities across North Carolina.
Online nominations will be accepted until 5:00 p.m. on March 28. After all submissions are in, a panel of expert judges will narrow down the list before online, statewide voting takes place April 9 – May 9. Judges include professional planners, landscape architects, the state coordinator for Safe Routes to School, and the Chief of Staff for the NC Zoo. These judges know "great" and think that most North Carolinians do as well. To understand more about the contest, check out this YouTube video.
Great Main Streets & Public Spaces
The People's Choice awards for Great Main Streets go to those places where residents and visitors alike enjoy strolling, sitting, gathering, shopping, people-watching, eating, or hanging out with friends and family on a beautiful afternoon. Great Main Streets are those streets that you want to spend a little time in; a place where people enjoy not just the special events, but the ordinary every day interactions that create the fabric of a community.
"Truly great Main Streets are the heart and soul of the small business community, and the spirit of a town," said Ben Hitchings, President, NC Chapter of the American Planning Association. "Places like Cary, NC have long been recognized by national publications like Money Magazine; the Great Main Street and Public Places awards would be a natural for recognition at a state level." The nominations for a Great Main Street are open to any town in the state and can be big or small.
Great public places are where communities can bring kids to play, ride bikes, read a book, have a picnic, or to just enjoy the outdoors. A great public place brings people of all ages together. Public places are all shapes and sizes, and may have fields, playgrounds, a theater, trails, a dog park, or be used for community events like concerts. To be considered for a Great Public Places award, the location should be outdoors or predominantly outdoors, but can be of any size. Winning examples of great public spaces provide a gathering place for people of all ages that has become well-loved by the community.
If a Main Street or Public Place is worthy of recognition, submit a nomination today. Simply visit GreatPlacesNC.org, find the People's Choice Award, and get started.
Past Winners
Concord, NC won a People's Choice award in 2013 for their Main Street. A small town that packs a punch in NASCAR racing circles, it may be overlooked for something as "down home" as a Main Street. According to Diane Young, Concord Downtown Development Corporation, winning the People's Choice award for Concord's Main Street made them realize that they had evolved to a level of recognition typically reserved for towns like Wilmington, Asheville, and Hendersonville. "It was a stamp of approval…and provided great fuel for…our Downtown as a whole to continue the hard work that helped us become recognized in the first place," said Young.
In addition to Concord's Main Street, these other Great Places in North Carolina were recognized in 2013: Blowing Rock's Main Street; Davidson's Main Street; Elkin's Main Street; Fayetteville's Hay Street; and Raleigh's Fayetteville Street.
Nomination Process
Use photos that really capture the "essence" of the nomination. With just 100 words, be concise in the description of what makes the Main Street great, highlighting any special features or efforts that have been made in the town. If selected as a finalist, it will be time to hit the streets to spread the word and get folks voting!
About APA – NC
The North Carolina Chapter of the American Planning Association is an organization of 1,500 professional and citizen planners dedicated to preserving and creating great communities throughout North Carolina. We provide education, training opportunities and legislative updates to our members and partner organizations. Our Annual Conference will be held October 1 -3 in Durham, NC. For more information, please visit NC-APA.