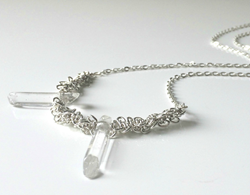 Trailblazer is a statement-making necklace that doesn't take itself too seriously. It's unique but totally wearable.
San Francisco, California (PRWEB) April 03, 2014
The chic, modern gemstone jewelry of great rock moon (http://www.greatrockmoon.etsy.com) is set to hit GBK's by-invitation-only Luxury Gift Lounge in honor of the 2014 MTV Movie Awards nominees and presenters on April 11-12, where it will be gifted to members of the press stopping by The Artisan Group® exhibit. The Gift Lounge will take place at an exclusive location in Beverly Hills, California.
Nicole Warmerdam, designer/owner at great rock moon, enjoys the MTV Movie Awards for its edge and because it is not afraid to push the envelope in pursuit of a good time. For this gifting, she imagined a piece that would capture some of that magic. The result is the Trailblazer Quartz Crystal Necklace, which features two clear quartz crystal spikes draped on a hand-woven silver-plated chain. The spikes are beautifully cut to reflect light without losing the natural imperfections of raw crystal.
"Trailblazer is a statement-making necklace that doesn't take itself too seriously. It is unique but totally wearable and can easily be dressed up or down," notes Nicole. "It is named in honor of the award that's given each year recognizing a young actor carving out his/her own unique and diverse path within Hollywood."
The focal part of the Trailblazer Quartz Crystal Necklace measures 3 inches (7.6 cm) across while the individual spikes measure 1.25 inches (3.2 cm) long. The silver-plated chain measures approximately 18 inches (45.7 cm) long. The piece retails for $35.00 and is available to order at greatrockmoon.etsy.com.
Nicole has established great rock moon as a go to shop for women seeking upscale jewelry that is never fussy. Her Quartz Crystal Point Earrings are a customer favorite, in part because the simple design allows the raw, natural beauty of the quartz to be front and center. The look, says Nicole, "is a bit tough and a whole lot of luxe. You can't find anything like it in your local department store."
In addition to its participation in the MTV Movie Awards Gift Lounge, great rock moon has been selected to include its jewelry designs in The Artisan Group's 2014 Mother's Day Gift Bag, which will be presented to some of Hollywood's most talked about Mothers and Moms-to-be, including Jaime King, Alicia Silverstone, Jennifer Love Hewitt, Tammin Sursok, Halle Berry, Rachel Leigh Cook, Kendra Wilkinson, Gwen Stefani, Kerry Washington and many others.
Jewelry from great rock moon was also included in The Artisan Group's swag bag for GBK's Luxury Gift Lounge for the 2014 Golden Globe Awards, where the Shades of Grey Gemstone and Czech Glass Circle Drop Necklace was gifted to celebrities.
To learn more about great rock moon, contact Nicole D. Warmerdam by email. Become a fan on Facebook, Twitter and Pinterest (@greatrockmoon). Shop great rock moon at greatrockmoon.etsy.com.
For more information about The Artisan Group, visit theartisangroup.org.
About great rock moon
great rock moon (http://www.greatrockmoon.etsy.com) is the home for jewelry designs from Nicole D. Warmerdam. A self-taught jewelry designer, Nicole was introduced to the joys of creating by hand at early age. Her love of the modern minimalist aesthetic led her to create great rock moon, a jewelry line inspired by the juxtaposition between the tradition and creative spirit of handicraft and classic, modern design. Each great rock moon piece begins with exceptional materials and is created to highlight both the natural beauty and the imperfections of the materials. The result is jewelry that is raw and organic yet extremely refined.
Nicole is proud member of The Artisan Group® (http://www.theartisangroup.org), an elite art promotions group representing talented small business artisans at the best celebrity gift lounges. She is also a proud member of the San Francisco Etsy Team.