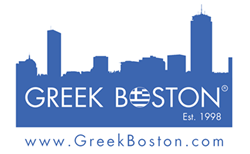 We are proud to partner with MyParea.com to help create one fantastic Grecian social network that Greeks all around the world can use to keep in touch.
Boston, MA (PRWEB) May 05, 2014
GreekBoston.com® (http://www.greekboston.com), the top community website for Greeks in Boston and the greater New England region, and parent company Worldwide Greeks LLC (http://www.worldwidegreeks.com) today announces a strategic business alliance with MyParea.com (http://www.myparea.com), one of the country's largest Greek social networking websites which is sponsored by the National Hellenic Society based in Washington DC.
As part of the business alliance, MyParea.com will feature all events posted to GreekBoston.com's Greek events calendar on the main MyParea.com website, as well as the new MyParea Apps that are available for the iPhone/iPad and Android based devices. This will give Greek events and festivals in New England, and ultimately across the country, the opportunity to market to an even wider audience. MyParea.com will also be promoting the new content created on Greek Boston® and Worldwide Greeks® as part of the sites' redesign and new business strategy.
Local Greeks that work for a Greek church, or a Greek-themed event who want to promote upcoming festivals/events for free on both GreekBoston.com, as well as the MyParea.com Boston Greek events section, can submit an event for free. Learn more at http://www.greekboston.com
MyParea.com is owned by the National Hellenic Society (http://www.nationalhellenicsociety.org), whose focus is on the promotion of Hellenic heritage and the furtherance of Hellenic ideals through the sponsorship of scientific, educational and charitable programs. MyParea.com was created as a social networking site to connect Greek-Americans from around the country. MyParea has several useful resources that individuals, groups and organizations can use to facilitate communications, calendaring events and inviting 3rd & 4th generation individuals of Greek descent that otherwise remained unconnected to their Greek heritage.
As part of the business alliance, Worldwide Greeks® and Greek Boston® will be promoting MyParea.com, encouraging social fans and followers, as well as visitors to the two sites, to sign up for a free account on MyParea.com and connect with fellow Greek-Americans.
The old Worldwide Greeks® website, which underwent a major redesign in March 2013, used to have a proprietary social networking site built into the main website. But this social platform was removed with the new website design.
"It just didn't make sense to have two Greek social networking sites out there," says Worldwide Greeks® owner Nick Stamoulis. "The new direction of Worldwide Greeks™ has us focused on content creation and promotion, and not on social networking, and so we are proud to partner with MyParea.com to help create one fantastic Hellenic social network that Greek Americans and Greeks all around the world can use to keep in touch."
About Greek Boston
Since 1998 GreekBoston.com® has been the premier destination for Greeks living in and around the Boston Massachusetts and New England areas. Greek Boston is the biggest ethnic website for New England Greeks that features the following useful sections: Boston and New England Greek Festival calendar, Local Greek Events Section, Greek Travel, Greek News, Greek Recipes, Weekly Top 40 Greek Music Charts, Greek Wedding and Christening information, and so much more.
About MyParea.com
Today's young Greek American professionals will be tomorrow's leaders. By staying connected the bonds to heritage are sustained. MyParea.com is the social networking website connecting Greek Americans sponsored by the National Hellenic Society. MyParea.com and affiliated social media channels cater to a growing contingent of Greek Americans, Hellenes and Philhellenes from around the world featuring very high quality content centered on Hellenic heritage and culture.