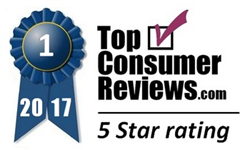 All of these benefits led Transparent Language to be chosen as the TopConsumerReviews.com top pick for online Greek Lessons in 2017.
Overland Park, KS (PRWEB) September 20, 2017
TopConsumerReviews.com recently gave a best-in-class 5-star rating to Transparent Language, a leader among online Greek Lessons.
Why do students study Greek? For some students, learning Greek helps them to better understand English, as nearly 25% of English words are derived from the Greek language. Others enjoy learning Greek because it helps them connect with their family history, with business associates, or even with a love of cooking Greek foods. Whatever their reasons for studying Greek, students often turn to online lessons for their education, as it can be challenging to find live classes available locally. There are several online providers of Greek lessons that make it easy and enjoyable to learn the language.
"Transparent Language is one of the top providers of foreign language instruction available today, and their Greek Lessons are an excellent choice." said Brian Dolezal of TopConsumerReviews.com, LLC. "Starting with a 14-day free trial, Transparent makes it easy to discover all of the features of their Greek program, including their voice-matching technology that allows learners to compare their speech with that of a native speaker. We particularly appreciate the self-directed approach to learning that Transparent takes with all of the languages they offer. Students can focus on the skills that they need most - whether they're learning for business or pleasure. Finally, Transparent's 100% satisfaction guarantee offers a full refund within the first 6 months of purchase, or prior to the next billing cycle for those who subscribe monthly. All of these benefits led Transparent Language to be chosen as the TopConsumerReviews.com top pick for online Greek Lessons in 2017."
To find out more about Transparent Language and other providers of Greek Lessons, including reviews and comparison rankings, please visit the Greek Lessons category of TopConsumerReviews.com at http://www.topconsumerreviews.com/greek-lessons/.
About Transparent Language
Transparent Language leverages their expertise in technology and in the research and practice of language learning and teaching to build unique capabilities for use by US Government agencies and organizations, as well as hundreds of public libraries, thousands of schools, and millions of individuals. As a company, they care about all languages, regardless of commercial value. They believe that language technology needs to work for all courses and curricula, not just a few courses. It needs to benefit not only individuals, but entire programs. They believe that great language technology not only changes the user experience; it transforms the economics, logistics, and reliability of language learning.
About TopConsumerReviews.com
TopConsumerReviews.com, LLC is a leading provider of independent reviews and rankings of hundreds of consumer products and services. From Greek Lessons to Passports and Travel Insurance, TopConsumerReviews.com delivers in-depth product evaluations in order to make purchasing decisions easier.