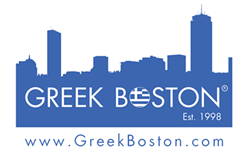 We know that the Greek dating scene can be challenging, which is why we've added the Greek Dating Information section to the website.
Boston, MA (PRWEB) December 09, 2014
GreekBoston.com®, the number one website for Greek Americans living in Boston, Massachusetts and the greater New England region, has recently launched a Greek Dating Information section on its website.
"I actually met my wife Tanya in 2003 at a GreekBoston.com event. Since then we've gotten married and now have two beautiful children. The site holds a special place in our hearts for this reason and we decided to buy it when we had the chance. We know that the Greek dating scene can be challenging, which is why we've added the Greek Dating Information section to the website. We want to share our advice and experiences in order to help other Greeks that are currently looking for "the one"!" said GreekBoston.com owner Niko Stamoulis.
The Greek Dating Information section (http://www.greekboston.com/category/greek-singles/) on the GreekBoston.com® website features dating tips and helpful information for Greek singles. Visitors to the section can learn the best ways to meet an eligible Greek, how to survive Greek dating websites, fun first date activities, Greek dating deal breakers, how to meet single Greeks outside of church, tips for meeting the family for the first time, best places to meet Greek singles, how to date a Greek single parent, how to start a conversation, tips for dating a non-Greek, and more.
GreekBoston.com® was re-launched in 2014. The purpose of the updated website is to provide Boston, MA and greater New England area Greeks with the Greek related news and stories they need to feel connected to the New England Hellenic community, as well as stay informed with the latest news and music directly from Greece. The new website design features regularly updated content, a new layout and navigation, photo galleries, local events and Greek festival pages for New England area churches, top music playlists from Grecian artists, and much more. Greek Boston® has become a leading online resource where Boston and New England Greeks can celebrate their language and culture, broaden social and business networks, share stories, learn about their heritage as a people, and come together as a united and strong Greek community. Hosts of local Greek events are encouraged to submit their event, for free, to Greek Boston® to be listed on the Greek Boston® homepage, social media profiles, and within the monthly newsletter.
Follow Greek Boston® on Twitter at https://twitter.com/GreekBoston, on Instagram at http://instagram.com/greekboston, or become a fan on Facebook at https://www.facebook.com/greekboston
About Greek Boston®
Since 1998 Greek Boston .com® has been the premier destination for Greeks living in and around the Boston Massachusetts and New England areas. Greek Boston® is the biggest ethnic website for New England Greeks that features the following useful sections: Boston and New England Greek Festival calendar, Local Greek Events Section, Greek Travel, Greek News, Greek Recipes, Weekly Top 40 Greek Music Charts, Greek Wedding and Christening information, and so much more.