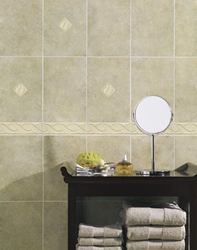 From soft sages and pale mint greens to vibrant emeralds, olives, and even chartreuse or lime green, all shades of green are gaining popularity in bathroom design.
(PRWEB) August 22, 2013
HomeThangs.com – the Online Home Improvement Store has made their goal to deliver the right product to the consumer. With that in mind, shopping and home design tips, as well as special product selections are being introduced.
"Going Green" is one of the most prominent and important trends in bathroom design, in some cases more literally than others. Low flow toilets and water saving shower heads are great, but the actual color green is starting to creep into a wide variety of bathroom styles, too. From soft sages and pale mint greens to vibrant emeralds, olives, and even chartreuse or lime green, all shades of green are gaining popularity in bathroom design. HomeThangs.com has released a guide to choosing and using these colors to add a soft natural touch to an eco-friendly bathroom.
The most popular place to add green to a bathroom is, of course, on the walls. Not only does changing the walls make the most dramatic difference in a bathroom's appearance, but often it's also one of the least complicated projects, too. Even a simple green paint job can totally alter the look and feel of a bathroom. For all the ease of applying paint, though, many homeowners are going all out with green tile, creating entire green shower enclosures, or simply dressing up their bathrooms from head to toe in elegant green glass or ceramic tiles.
Similarly, green mosaic tile backsplashes or accent walls pair beautifully with wood bathroom furniture. The combination evokes the trunk and leaves of a tree, and paired with light or white stone walls and floors creates a light, bright, natural neutral appearance that's perfect for a spa style bathroom. The green tile creates a springy look and feel while a dark wood vanity lends a touch of sophistication, resulting in a space that feels both relaxed and elegant.
Just about any green – whether it's paint, tile, or some other accent – looks excellent paired with wood: wood bathroom vanities, wood shelves, or, yes, wood floors. Another hot trend in bathroom design, wood floors also help enhance that natural, earthy feel, especially combined with green features or accents. Wood tile flooring is an excellent alternative for those concerned about water damage, as it offers the appearance of real, weathered wood with the durability and water resistance of ceramic.
Another fun feature that homeowners seem to be playing with a lot lately is painting the outside of a cast iron clawfoot tub. This is a relatively simple DIY project that adds a vibrant, unexpected pop of color to a bathroom. Even without any other green features or fixtures, a tub finished in green makes a bold statement and can add some great vivacity to a bathroom all by itself. Plus, if the color goes out of vogue, the tub can be resurfaced and re-painted, unlike the colored enameled tubs of the 60s and 70s.
To try out a color without committing to a large scale remodel, consider starting off small. Bright green accessories like a shower curtain, towels, bath mats, accent furniture, or even fresh greenery can add that vivacious pop of color, but can be changed out a whole lot more easily if the color isn't quite right. This is also a great way to make a relatively neutral bathroom look more on trend and up to date without a major remodel.
To see some of these ideas in action, read the full article here.
HomeThangs.com is not only a home improvement superstore, it also provides expert design tips and a comprehensive shopping guide, taking the ideas from professional interior designers, and offering tips to the consumers on how to pick the products to best suit their needs.