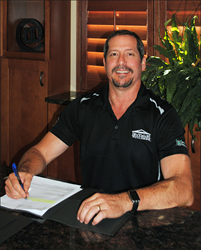 Each custom home NuVision Builders constructs is a unique design custom home.
Titusville, Florida (PRWEB) March 11, 2015
NuVision Builders now offers green building design for custom home buyers seeking an energy-efficient lifestyle. To assist custom home buyers achieve their desired lifestyle, NuVision Builders now offers an onsite green building design team.
As retiring baby boomers relocate to Florida, many are seeking to acquire green building design. The green building design NuVision Builders offers for custom homes includes low-energy systems, smart home technology, and utilize high-efficiency HVAC systems to reduce utility costs.
Those types of green building custom homes offer storm and moisture resistance, low annual maintenance, and healthy indoor air quality.
In addition to offering a safe and secure living environment, a green building design by NuVision Builders can result in a reduction of annual insurance premiums and higher resale value as compared to conventional built homes. Learn more about green building by visiting NuVision Builders.
Another crucial green building feature occurs during construction of the custom home's exterior envelope. The exterior envelope consists of a steel-reinforced structural foundation connected to a solid monolithic, steel-in-place, concrete wall system.
The custom home buyer selects features such as energy-efficient windows and doors, and an advanced roof system, including solar panels upon request. Controlling the environment cost-effectively inside the custom home requires a tight and sustainable exterior envelope.
New home buyers now agree that NuVision Builders is offering a strong and sustainable green building design.
One of the huge advantages custom home buyers achieve in a green building design is the application of high-density, spray adhesive foam insulation. Attic space never becomes super-heated as most conventional built homes. The insulation is sprayed onto the trusses and sheathing creating immense gripping power and the resulting rigid roof system.
The exterior heat in Florida never passes into the cool dry attic space as it does in the conventional built homes which use batt and blown-in insulation. Custom home buyers are encouraged to learn more about green building at the custom home website NuVision Builders.
Statistics show that home owners spend more than 90% of their time indoors. Indoor air quality is a crucial aspect of green building. In many home designs an increase in pollution occurs due to contaminants, allergens, and other air-borne particles leaking into the interior environment.
By sealing the entire exterior envelope green building offers fresh air exchange by mechanical ventilation systems while removing humidity to reduce interior moisture.
NuVision Builders utilizes an Energy Recovery Ventilator (ERV) as part of the HVAC system. The ERV draws fresh outdoor air in while cleaning, cooling, and removing moisture from it before distributing it in the home through the HVAC system.
ERV significantly reduces energy demand on the HVAC system. Combined with a high-efficiency air purifier the ERV is very effective at expelling indoor air pollutants and providing highest indoor air quality (IAQ).
More About NuVision Builders
Mark Ledford is president of NuVision Builders. Mark is a State Certified General Contractor. Prior to acquiring a General Contractor's license, Mark performed 10 years in the concrete, steel, and carpentry trades. In 1994, Mark acquired his Certified General Contractor license.
Mark's formal business education occurred at Florida State University, and by enrolling in a Construction Technology Degree Program at Daytona State College. Mark studied drafting, architecture, engineering, computer design, construction management, and estimating. Mark has focused his career building luxury residential homes.
Mark achieved the distinction of LEED Accredited Professional. LEED is an acronym for Leadership in Energy & Environmental Design. LEED is a nationwide green building certification program which recognizes best-in-class building strategies and practices. Visit the custom home website and learn more about NuVision Builders NuVision Builders.