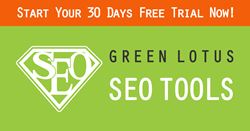 The 30+ SEO Tools are a perfect suite of tools for businesses focused on managing their own search engine optimization!
Toronto, Ontario (PRWEB) March 31, 2015
Officially launched on March 10, 2015 Green Lotus SEO Tools is a suite of tools designed to help entrepreneurs, small business owners and marketing professionals develop and manage online brand presence and search engine optimization.
With a simple, user-friendly dashboard and an extensive do-it-yourself SEO Checklist, Green Lotus SEO Tools provide users with an easy to follow SEO strategy in the form of tasks. On-Site Audits, Keyword Research and Content Optimization tools help users begin to optimize their websites, and ensure they are search engine friendly.
Green Lotus SEO Tools also provide a platform for conducting competitor research. Competitor data can be insanely helpful when it comes to keyword selection, landing page optimization and link building. With the Competitor Backlink Spy Tool users can view all links to competitors and start developing their own link building strategy. Competitor Content Analysis and Rank Spy Tools provide the ability to track keywords, rankings, paid advertisements and vertical metrics (including news, videos, images, etc), and help users remain competitive online.
Social metrics have become an important factor to consider in search engine optimization. Green Lotus SEO & Social Media Tools collect brand social data and provide an easy to view chart tracking social metrics over time with the Social Monitoring Tool, and online branding with the Web Buzz Monitoring Tool.
Combined, the 30+ SEO Tools are a perfect suite of tools for businesses focused on managing their own search engine optimization. A complimentary SEO Tools – 30 Day Trial is available to the public, no credit card required!
Green Lotus Tools provide exceptional value at a low cost! Starting at $20 /month on annual packages, these tools are not only insightful but affordable.
More about Green Lotus:
Bassem Ghali is the driving force behind Green Lotus and has a knack for creating innovative online marketing strategies for small, medium and large businesses. Bassem is a Toronto Search Engine Marketing Strategist and Speaker with more than 8 years of experience managing online marketing strategies for some of Canadian's largest corporations including Canadian Tire, Direct Energy, and Toronto Star - New in Homes.
Demonstrated success in online marketing has led to speaking engagements at various events including Search Engine Strategies (SES) Toronto, University of Toronto, Ryerson University, Humber College, American Marketing Association, SOHO Business Expo, Online Revealed Canada Conference, Newmarket Chamber of Commerce and more.
Green Lotus:
1 Yonge Street - Suite 1801. Toronto, Ontario M5E 1E5. Toll Free: 1 800-878-1667