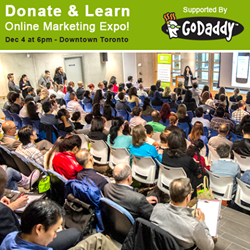 "The Donate & Learn initiative doesn't just support a great cause, and provide learning opportunities with world-class speakers, it also demonstrates the difference we can make when we each do our little part!" says Bassem Ghali, Donate & Learn Founder
Toronto, Ontario (PRWEB) November 21, 2013
Interested in learning how to increase your business leads and sales? Effectively manage your online marketing budget? Join 500 of Toronto's top entrepreneurs, business owners and online marketing specialists to learn cutting-edge search engine and social media marketing strategies for your business at the Toronto's Donate & Learn Online Marketing Expo.
Running off the success of past events the Donate & Learn initiative is back with a bigger, better, longer online marketing conference.
Donate & Learn events are extremely popular for the quality of its keynote speakers. Green Lotus is honored for the past participation of experts from Google, ABC News, Canadian Tire and Xplornet, as well as the Dec. 4 Donate & Learn Expo Speakers:

Andrew Yang, Search Evangelist at Microsoft Canada
Tommy Kern, Professional Development at GoDaddy
Natalia Kantor, Jan Keck, and Bryan Paccagnella, Partners at Big3 Video Agency
Bassem Ghali, Founder of Donate & Learn, Head of Client Strategy at Green Lotus
Whether just getting started with social media, planning an online marketing strategy, or deep into implementation; the Donate & Learn Expo will provide the knowledge, strategies and networking opportunities needed to improve social media, online marketing results, and take your business to the next level.
The Donate & Learn initiative was created by Green Lotus to support Toronto charities and provide informative workshops for small and medium businesses with a focus on social media, online marketing strategies and the tools needed to achieve online marketing goals.
The concept is simple – instead of paying a conference fee participants make a tax-deductible donation to the partnering charity of the Donate & Learn event. Donate & Learn Past Events have so far raised $8,350 for the YWCA Toronto, and the goal is to raise $10,000 for Big Brothers Big Sisters of Toronto.
Date: Dec. 4, 2013 at 6 - 10pm
Location: Ryerson University - Ted Rogers Building, 55 Dundas Street West, Toronto
Cost: minimum $20 Donation (tax-deductible)
Expo Sponsors: GoDaddy, Microsoft Bing, Marin Software, and BlogDash.
Donate & Register Now: http://greenlotus.ca/learn-donate-workshop