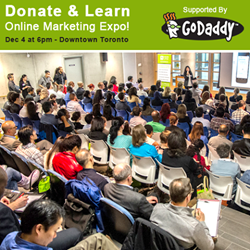 Toronto, Ontario (PRWEB) November 26, 2013
Running off the success of past events the Donate & Learn initiative is back with a bigger, better, longer Online Marketing Conference. Donate & Learn Events are extremely popular for the quality of its keynote speakers. Green Lotus is honored to have the support of experts from Google, ABC News, Canadian Tire and Xplornet, and speakers of the Dec. 4 Donate & Learn Online Marketing Conference.
GoDaddy, the Web's top platform for small businesses, is a major supporter of Donate & Learn events.
GoDaddy Offers 2 Special Pre-Event Functions - Spots are Limited. View Donate & Learn Expo Agenda.
1. GoDaddy Hands-On Workshop - Build & Launch a Website that Works for Small Business:
The workshop is hands on and does not require technical expertise, but be ready to roll up your sleeves. A GoDaddy Web pro will help create a top-notch small business website. Attendees will walk out the door with a website that's optimized for mobile, packed with social media functionality, and looks so great that customers will be impressed. The best part? Attendees take away the tools and knowledge to update and manage a website for the long term. Not too shabby for a mere 90 minutes.
2. GoDaddy 1-on-1 Consultations:
Whether you already have a website or are looking to build one, GoDaddy will demonstrate how to turn visitors into customers. Stop by the GoDaddy Website Tune Up Pavilion for a personalized, 20-minute consultation with a website expert. Even without a website, GoDaddy experts can help attendees get started.
"The concept is simple – instead of paying a workshop fee, participants make a tax-deductible donation to the Donate & Learn partnering charity," says Bassem Ghali, the founder of the Donate & Learn Initiative and Head of Client Strategy at Green Lotus. So far, the Donate & Learn Past Events have raised $8,350 for the YWCA Toronto, and the next goal is to raise $10,000 for Big Brothers Big Sisters of Toronto.
Date: Dec 4, 2013 at 6 - 10pm
Location: Ted Rogers Building
Address: 55 Dundas West St. Toronto
Cost: Minimum $20 Donation (tax-deductible)
Expo Sponsors: GoDaddy, Microsoft Bing, Marin Software, and BlogDash.
Donate & Register Now: http://greenlotus.ca/learn-donate-workshop.