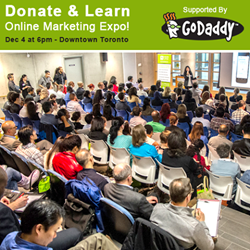 The Donate & Learn concept is simple and pure brilliance! We have all paid a fee to attend marketing workshops and seminars in the past, but the idea of a workshop, free with a donation supporting such a great cause, is inspiring! - John Shehata, ABC News
Toronto, Ontario (PRWEB) December 03, 2013
Interested in learning how to increase your business leads and sales? and effectively manage your online marketing budget? Join 500 of Toronto's top entrepreneurs, business owners and online marketing specialists to learn cutting-edge search engine and social media marketing strategies for your business at the Donate & Learn Online Marketing Expo.
100% of donations will go to support the Big Brothers Big Sisters of Toronto Go Girls! and Game On! group mentoring programs for youths!
The Donate & Learn concept is simple – instead of paying a conference fee participants make a tax-deductible donation to the partnering charity of the Donate & Learn event. So far, Donate & Learn events have raised $8,350 for the YWCA Toronto, and the goal is to raise $10,000 for Big Brothers Big Sisters of Toronto!
Thanks to the generous support of corporate sponsors Donate & Learn events are provided free of charge, and ALL event proceeds can go directly to the partnering charity. Sponsors each have their unique reasons for supporting the Donate & Learn initiative:
Marin Software not only makes it a priority to get involved with local charities at a corporate level, but also encourages employees to get involved. The Donate & Learn initiative aligns perfectly with Marin Software's goal of being an active community member. Getting involved at a local level is a priority for Marin Software. The Donate & Learn Expo is an opportunity to not only interface with some of Toronto's leading marketing professionals but also support local charities.
The Donate & Learn initiative was created by Bassem Ghali of Green Lotus to support Toronto's local charities, and provide informative workshops for small and medium businesses with a focus on social media, online marketing strategies and the tools needed to achieve online marketing goals!
Date: Dec 4, 2013 at 6 - 10pm
Location: Ryerson University - Ted Rogers Building
Address: 55 Dundas Street West, Toronto
Cost: minimum $20 Donation (tax-deductible)
Expo Sponsors: GoDaddy, Microsoft Bing, Marin Software, and BlogDash.
Donate & Register Now: http://greenlotus.ca/learn-donate-workshop