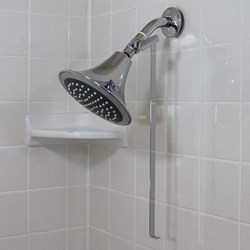 Dallas, TX (PRWEB) February 12, 2014
It's no big secret that some people complain about low flow showerheads not giving a good quality shower. California residents wanting to save water in the shower without sacrificing the quality of a comfortable experience can now do that with new technology from Water Select®.
The Water Select® valve allows people to keep their existing showerheads that they are already comfortable using. The unique long handle hangs down allowing quick and easy access to control water flow while helping maintain temperature. It is so easy to operate even an elderly person or child can use it as demonstrated in this video - http://www.waterselect.com/how-it-works.html.
To install the new green plumbing fixture, simply remove the existing showerhead, screw on the valve with long handle, and then replace the showerhead to begin enjoying the same great shower with full control over water flow that is quick and easy to use. Remember to apply a little Teflon tape (which comes with the product) during installation to prevent leaks as shown in this video - http://www.waterselect.com/install_water_select_valve.html.
The Water Select® valve can save much more water than a low flow showerhead because it is totally up to the user as to how much water to use, and when. For example, if a person wants to slow the water volume to just a slight trickle while bathing, shampooing, or shaving a larger water savings can be realized. The water can even be turned off completely by pulling down on the handle.
The Water Select® valve features a solid brass flow-control showerhead valve, available in a variety of fixture finishes/colors, that's easy to install and is designed to interface with virtually any showerhead. Flow-control is the answer to enhancing the shower experience.
Many times it is preferred during the course of a shower to reduce the flow of water from full-on down to perhaps a trickle. Now taking a shower can be modernized with new green plumbing technology that offers affordable luxury and enhanced pleasure. The gratification continues as the monthly utility bills associated with the showering experience decrease and in a matter of months the return on investment becomes a new budgetary standard.
The Water Select® showerhead valve features a 15" extended handle that serves several purposes. The highest and best use of the extended handle is easier access to the flow-control feature for the elderly and children.
Try Water Select® to find out how many times during the course of a shower it is preferable to reduce the flow of water while such tasks as: soaping-up, shaving, brushing teeth, bathing children, bathing the elderly, bathing pets or cleaning the shower are being performed. Each time the water is reduced while performing any one of the above tasks water is being saved.
Visit http://www.WaterSelect.com today to see how easy it is to improve everyone's ability to use the most valuable natural resource on the planet, WATER, more resourcefully during the course of a shower. Water Select® is proud to produce the best green plumbing technology that allows utilities to be used more efficiently, while decreasing monthly utility bills.