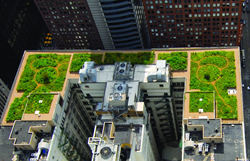 Washington, DC (PRWEB) December 30, 2014
The Commercial Roofing Experts is dedicated to providing superior roofing services for all needs, whether residential or commercial. Their experienced technicians and engineers are what makes them trustworthy and reliable as a professional team. Throughout their existence in the business, they have been able to produce satisfied customers as you may see in the testimonials at http://www.thecommercialroofingexperts.com. Whatever one's roofing needs are, no matter how big or small, The Commercial Roofing Experts has them covered. Now, they are taking a notch higher by offering green roof services.
A green roof is also known as a living roof. This pertains to a kind of roofing wherein the roof is composed of plants or vegetation. This becomes possible by planting in waterproofing membranes and installing necessary components such as root barriers, drainage systems, and most importantly, irrigation systems. Another type of green roof are the rooftop ponds which are often used for the treatment of grey-water otherwise known as waste-water from the showers, hand basins, or washing machines.
There are two types of green roofs. Intensive roofs are thicker with a measurement of 12.8 cm in depth. Because of this, you may plant more plants here but this type requires more maintenance. The other type are the intensive roofs which are more shallow with a depth of 2 cm o 12.7 cm. Since they are lighter, these green roofs require little maintenance.
Green roofs have a lot of benefits. They may absorb rainwater, provide insulation, and even create an artificial habitat for wildlife. They also make people closer to nature so it has the capacity to make homeowners feel more relaxed and less stressed perhaps. These roofs are also capable of lowering air temperature especially in urban areas by mitigating the heat island effect wherein metropolitan areas tend to be hotter due to the volume of industrial activities happening in there. Installing a green roof may be a perfect complement to one's advocacy of helping save the environment. It could even increase the value of a property in the long run. Being able to help the environment and a property's value, it is definitely a win-win situation for someone who wants to try the said service.
More and more roofing companies are now offering green roof technology nowadays and finally, The Commercial Roofing Experts joined the bandwagon. The quality of the service they provide has been tested and they make sure that they comply with the standards set by the FLL guideline. Installation of green roofs is a complicated task and The Commercial Roofing Experts make sure that their clients' needs are given utmost priority as well as their budget.
To know more about them, visit their website at http://thecommercialroofingexperts.com/ or give them a call at 202.800.1411 with their 24/7 service.
----------------------------------------
The Commercial Roofing Experts
1629 "K" St. Suite 300,
Washington, DC 20006
(202) 800-1411
http://thecommercialroofingexperts.com
info@thecommercialroofingexperts.com