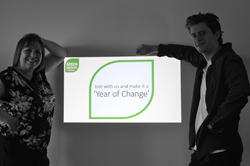 The ten lucky businesses that have the chance to access matched funding to enhance their workforce's skills will reap the rewards for many years to come
Ipswich, Suffolk (PRWEB UK) 30 April 2015
In an offer to be launched at the 2015 Anglia Business Exhibition, to be held at Trinity Park, Ipswich on 6th May, ten local businesses will have the opportunity to take advantage of matched funding on training services from Green Shoots Learning, up to a value of £6000 over 12 months. Managing Director of Green Shoots Learning Lorna Rose says," We wanted to share our first year's success with other companies, so we decided to launch our £60,000 Year of Change campaign. The ten lucky businesses that have the chance to access matched funding to enhance their workforce's skills will reap the rewards for many years to come. We've delivered some incredibly effective training to businesses throughout Suffolk in the last year and it's been so rewarding to see them reap the benefits."
According to research carried out by Oxford Economics in 2014, the average business spends £5433 on logistical costs to replace an employee. This doesn't take into account the average 28 weeks for a worker to reach optimum productivity that has the associated cost of £25,181 per employee. So investing in the professional development of staff is financially beneficial to a company in both the short and the long term. The team at Green Shoots Learning bring a plethora of skills to the company that ensures all of their training is delivered at the highest level, and they have recently been joined by their first apprentice, Michael Beeching, who is completing a digital media apprenticeship and will be developing the company's online presence and helping to design and build e-learning content for them.
Summing up the past year Lorna says," We have come a long way in a relatively short time. We have demonstrated our expertise to our clients, and we have demonstrated our CSR by being awarded our Suffolk Carbon Charter Silver Award, as well as a Trading for Good Award. We have a lot to offer businesses in East Anglia and Greater London and our Year of Change campaign is one way we can share our success."
For more information about Green Shoots Learning and how you could be in with a chance of securing one of ten sets of match funding for £6000 of training services visit: http://www.greenshootslearning.com, telephone 01473 760333 or visit them on stand 134 in Zone B at the Anglia Business Exhibition.