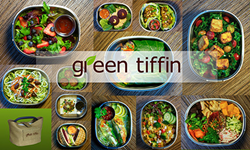 "At Green Tiffin, we get to the heart of eating green by combining the recipe of sustainable plant-based food with reusable packaging and energy-efficient delivery methods." Adrian Tay, Green Tiffin founder
San Francisco, CA (PRWEB) April 06, 2015
Societal trends towards green living are inevitably shaping consumers' decisions about what to eat, as they increasingly question where their food comes from and how it got there. Green Tiffin, a sustainable food business offering meal subscription to wholesome and healthy lunches, is at the forefront of this trend, revolutionizing the way consumers eat by caring for our health and our planet.
After a well-received pre-launch, Green Tiffin will be in full operation beginning April to deliver healthy and delectable plant-based lunches to San Francisco locations. Delivered sustainably on electric bicycles, these nourishing and tasty meals arrive in eco-friendly reusable lunch boxes, also called tiffins. In response to busy work schedules that often lead to grab-n-go lunches that aren't the best options, the company's goal is to make it easier to eat consciously.
"At Green Tiffin, we get to the heart of eating green by combining the recipe of sustainable plant-based food with reusable packaging and energy-efficient delivery methods. By this, we hope to live up to our name," says Adrian Tay, founder of The Green Tiffin Company. "We want you to feel great about what you're eating - inside and out, from seed to plate. We make sustainable food convenient so you can make wholesome choices."
There have been clear shifts in the fast food delivery industry in recent years; however convenience is not the only factor in the rise of such businesses, as discerning consumers start to question food quality and source. In addition, the rise in personal diets leading to the increase in healthy eating preferences, combined with growing customer interest in local food are driving demand for sustainable food options.
"Tiffin" is a British India slang term for lunching, and the lunch boxes themselves are called tiffins. Green Tiffin works on a flexible meal subscription plan and empty tiffins are returned via exchange at the next meal delivery, encouraging reusability and eliminating trash from its operation. Green Tiffin's menu changes as the seasons do, fostering an alignment with the natural cycle of growth and availability. It features cuisines from around the world, catering to San Franciscans' diverse palates, while striving to use local and organic ingredients whenever possible. Green Tiffin meals start at $10 with a $2 flat delivery fee. All meals come with appetizer and entree, and the occasional surprise dessert. Weekly menus can also be previewed on the website.
Green Tiffin believes in food becoming medicine for us and the world, and nourishing ourselves while preserving the planet is surely a positive step towards conservation and sustainability.
To view the site, go to https://www.greentiffin.com/.
About Green Tiffin:
Founded in 2014 by Adrian Tay, Green Tiffin delivers tasty and healthy plant-based lunches in eco-friendly reusable tiffin boxes using electric bicycles in the streets of San Francisco.