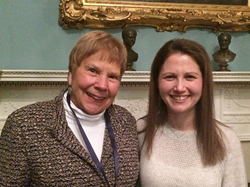 I'm honored to receive this inaugural award in the name of a great architect and fellow Cornellian
Boston, Massachusetts (PRWEB) February 04, 2015
Stephanie Horowitz of ZeroEnergy Design, a green architecture firm, received the Earl R. Flansburgh Young Architects Award, a new award recognizing design excellence by an architect under 40. The award is co-sponsored by the Boston Society of Architects/AIA and the Flansburgh Family.
The award is named for Earl R. Flansburgh FAIA, a distinguished Boston architect and founder of Flansburgh Associates, who completed more than 200 diverse educational facilities projects during a career spanning more than 45 years. Flansburgh, the 1981 BSA president and 1999 BSA Award of Honor winner, generously supported emerging professionals and advocated for women architects. The firm he founded has been guided by the philosophy that a well-designed building improves the quality of our lives.
The 2015 Flansburgh Young Architects Award was juried by the BSA Honors and Awards Committee, with special consideration given to candidates who embodied the design philosophies of Earl R. Flansburgh. The award was presented to Stephanie Horowitz at the 2015 Boston Society of Architects Design Awards Gala.
"I'm honored to receive this inaugural award in the name of a great architect and fellow Cornellian," said Stephanie Horowitz, Managing Director of ZeroEnergy Design.
Stephanie's work on energy efficient modern design has garnered significant interest in the past including EcoHome Design Awards, Best of Boston Home, BSA Sustainable Design Citations, the Carbon Challenge Award, and others.
About Stephanie Horowitz
As Managing Director of ZeroEnergy Design, Stephanie orchestrates projects that range from net-zero energy workspaces to Passive House certified homes. She believes that great design should enhance the value of each place, be long-lasting, and make optimal utility of both space and energy. In addition to her role at ZED, Stephanie serves on the Massachusetts Design Selection Board as the AIA of Massachusetts' representative and is a founding board member of Passive House New England. She holds a Bachelor of Architecture from Cornell University. Stephanie is a Certified Passive House Consultant and a Registered Architect in Massachusetts, Rhode Island, Maine, New Hampshire, Connecticut, North Carolina, and New Jersey.
About ZeroEnergy Design
ZeroEnergy Design creates innovative & environmentally sensible homes and buildings. The multidisciplinary team of architecture, engineering, and business professionals takes a calculated, multidisciplinary approach to modern green design and sustainability. The consistent result is a beautiful, high-performance home or building that holistically matches the owner's lifestyle, aesthetic desires, and environmental ideologies. http://www.ZeroEnergy.com