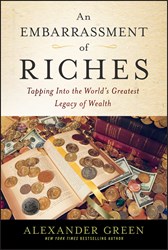 In countless ways—both large and small—today's generations are among the most fortunate people who have ever lived.
Hoboken, NJ (PRWEB) December 23, 2013
Tune into the news and it seems the only coverage is that of war, disease, natural disasters, corruption, violence, poverty, crime, nuclear proliferation, terrorism and political dysfunction in Washington. Polls show that many believe the American dream is fading, future generations face limited opportunities, and the country is decidedly on the wrong track. Author Alexander Green argues that this dour perspective is a gross distortion of the world we live in today.
As national investment expert and "New York Times" bestselling author Alexander Green reveals in his engrossing and provocative new book, "An Embarrassment of Riches: Tapping Into the World's Greatest Legacy of Wealth" (WILEY; November 2013; Hardcover & e-book; ISBN: 978-1-118-60882-1; $34.95), the human race has never had it so good.
"Like a lottery winner whose ticket is lost in some upstairs drawer, you can't claim your fortune—or appreciate it—if you aren't aware of it. Literacy and education levels—even I.Q.s—are at all-time highs. Access to the arts has never been greater. Crime is in a long-term cycle of decline. And the risk of death by violence has never been smaller for most of humanity," says Green. "The overwhelming majority of us are far better fed, sheltered, entertained, and protected against disease than our grandparents. In sum, the world we live in is rich by almost every measure. Our circumstances are not just fortuitous, but extraordinary. We should all recognize this and remember it. Human beings have never had it so good. Our lives are bountiful beyond measure."
"An Embarrassment of Riches" begins with a robust survey of the many ways our lives are becoming longer, easier, safer, healthier, and more prosperous. Green then embarks on a wide-ranging exploration of the ideas and the many men and women—both living and dead—enriching our lives today. Among the many subjects explored in over 50 essays in the book are the radical theologies of Thomas Jefferson and the wisdom of Confusions and Aristotle.
"The four most basic human economic needs—food, clothing, fuel, and shelter—have been getting steadily cheaper for years. And thanks to advances in medicine and public safety, we are enjoying the greatest human accomplishment of all time: the near doubling of the average life span over the past 100 years," explains Green. "Living standards today are the highest they have ever been, including for the middle class and for the poor. Yes, the median family net worth suffered a hit following the financial crisis of 2008, but with home prices bouncing back and the stock market more than doubling from its lows, prosperity is on the rise again."
Green adds, "Technology is revolutionizing our lives. Thirty years ago, most people didn't have a personal computer. Twenty years ago, the majority didn't have a cell phone. Ten years ago, most didn't have a high-speed Internet connection. We can't even imagine all the technological advances that lie just ahead. We underestimate the power of human ingenuity and the incentives that society provides for problem solvers. Instead we tend to focus on the daily white noise of setbacks, problems and negative developments, missing the big story in the process."
The consequences of adopting the cynical but popular worldview are many, including needless pessimism, missed investment opportunities, and—surprisingly—even poorer health. Yet "An Embarrassment of Riches" provides a powerful antidote. If born into the affluent West, one lives in a world that is vastly richer, easier, and more comfortable than those of the West's forebears'. No doubt everyone has family problems, or financial troubles or health issues, but people have always dealt with predicaments like these and usually in a milieu much more difficult than those now.
"An Embarrassment of Riches" shows that whatever problems one is grappling with, whatever may be wrong in one's life, it can only be improved by recognizing that we are all heir to an enormously rich social, political, economic, scientific, technological and cultural legacy. In countless ways—both large and small—today's generations are among the most fortunate people who have ever lived.
About the author
Alexander Green is the Chief Investment Strategist of The Oxford Club and the author of three national bestsellers: "The Gone Fishin' Portfolio," "The Secret of Shelter Island" and "Beyond Wealth." He has been featured on Oprah & Friends, Fox News, The O'Reilly Factor, CNBC, MSNBC, and C-SPAN and has been profiled in the "Wall Street Journal," "BusinessWeek," "Forbes," and many other publications. He currently lives in Charlottesville, Virginia, and Winter Springs, Florida, with his wife Karen and their children, Hannah and David.
###