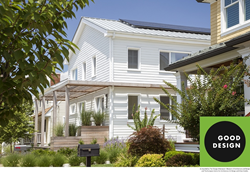 We believe great design is green design.
Boston, MA (PRWEB) May 16, 2016
ZeroEnergy Design, a green architecture firm, received the 2016 Green GOOD DESIGN™ Award for the Margate Resilient Residence, a new green home. Green GOOD DESIGN identifies and emphasizes the world's most important examples of sustainable design, while also helping develop public awareness about companies that provide the best in ecological and sustainable design.
The award was presented by The European Centre for Architecture Art Design and Urban Studies and The Chicago Athenaeum: Museum of Architecture and Design. The original GOOD DESIGN award program founded in Chicago in 1950 remains among the oldest and most important Awards Program worldwide. Members of The European Center's International Advisory Committee — worldwide leaders in the design industry —served as the jury and selected outstanding examples of green design from 22 nations.
The Margate Resilient Residence, located in a quiet New Jersey seaside neighborhood, serves as an exemplary model of green architecture. The home includes exceptionally low energy consumption (85% less than a typical brand new home), clean renewable energy production, rainwater catchment, healthy indoor air quality, storm protection features, and flood resistance by design.
"We believe great design is green design. The Margate Resilient Residence incorporates modern elements into a traditional vernacular, successfully tying into the neighborhood context and artfully addressing the design and resilience challenges of an area prone to both flooding and hurricanes. The home accommodates a family of five and two pets in a compact yet livable footprint that is smaller than the national average home size. It further achieves the goals of resilience, low energy use, and a healthy indoor environment on a moderate budget. We're thrilled to see this project recognized with a Green GOOD DESIGN award," said Stephanie Horowitz, AIA, of ZeroEnergy Design.
About ZeroEnergy Design
ZeroEnergy Design creates innovative & environmentally sensible homes and buildings. The team of architecture, engineering, and business professionals takes a calculated, multidisciplinary approach to modern green design. The consistent result is a beautiful, high-performance home or building that holistically matches the owner's lifestyle, aesthetic desires, and environmental ideologies.