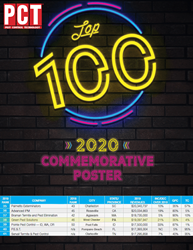 It's a great honor to once again be named to the PCT Top 100 list. Growing our annual revenue by over 20% year over year is truly a testament to all the hard work everyone has put in over the past year. I'm extremely proud of each & every team member for their dedication in making this all possible
WEST CHESTER, Pa. (PRWEB) June 12, 2020
Green Pest Solutions climbed up the rankings on the annual Pest Control Technology (PCT) Top 100 list of largest pest control companies in the United States by annual revenue. This is the second year in a row that Green Pest Solutions was featured on this prestigious list. After coming in unranked to #46 on last year's list, Green Pest Solutions continued their momentum by moving up to #38 on the 2020 list.
"It's a great honor to once again be named to the PCT Top 100 list. Growing our annual revenue by over 20% year over year is truly a testament to all the hard work everyone has put in over the past year. I'm extremely proud of each and every team member for their effort and dedication in making this all possible." says President/Owner Matt Jesson.
Green Pest Solutions is among the newer companies on this year's top 100 list. While most companies on the PCT Top 100 list have been around for a very long time, Green Pest Solutions was only established in 2012. The rapid growth Green Pest Solutions has seen over their 8 years to climb into the top 40 of the PCT list is a testament to their incredible team members and the company mission to deliver a superior customer experience. Green Pest Solutions prides themselves on giving customers the best experience possible while dealing with all their pest problems in a family-friendly manner.
If the 4,000+ online reviews the company has are any indication, Green Pest Solutions has managed its growth quite skillfully. Each of their 4 branches boasts an impressive 4.8 stars or above on Google and a 4.9 star rating out of 5 on its Facebook page. The company is A-rated on Angie's list and has been a Super Service Award winner each of its eight years in business. Green Pest Solutions was also named one of Philadelphia Business Journal's Best Places to Work in 2019.
Green Pest Solutions has expanded to four branches throughout the Pennsylvania and New Jersey area. The company now has over 160 employees and more than 100 vehicles in its fleet. Moving forward, Green Pest Solutions looks to open additional branches, invest in quality assurance and hire more team members that can provide their expanding customer based a superior experience.
Pest Control Technology is the leading publication in the pest control industry. It provides the latest news, business information and product technology for pest management professionals. The PCT Top 100 lists the industry's 100 largest pest management firms in the United States by revenue based on the previous year. This list is compiled by the editorial staff of PCT magazine each year since its debut in 2002.
# # #
Green Pest Solutions and Green Lawn Fertilizing is an independent lawn and pest control company that was founded in 2004. Under the leadership of Matt Jesson, President and Owner of Green Lawn Fertilizing / Green Pest Solutions, the company has grown to over 160 team members and over 100 service vehicles in its fleet. They have a mission to become the leader in the lawn and pest industry by providing superior customer service. Over the last several years, highly reputable publications have taken notice of the company succeeding in that mission. For seven of the last eight years the company received the Inc. 5000 award for being recognized as one of the 5,000 fastest growing private companies in the America. In 2018, Green Pest Solutions was named "Best of Philly Earth-Friendly Exterminator" by Philadelphia Magazine and in 2017 they were named "Best Pest Control" by Philly.com. In 2017, the company received the "Customer Service Excellence" Award by the Greater Philadelphia Chamber of Commerce. This past August the company was named as one of Philadelphia Business Journal's Best Places to Work.