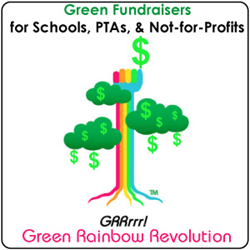 Finally! A simple, eco-friendly fundraising program that lets an organization 'go green' and 'make green'...and it's hassle-free.
Croton-on-Hudson, NY (PRWEB) March 31, 2014
Green Rainbow Revolution (GRR) has designed a hassle-free "Green" Fundraising Program that can be customized to fit any organization's needs. Fundraisers can choose from GRR's carefully selected assortment of modern, eco-friendly, ethically-produced art, school and office supplies, toys, home decor and lifestyle goods. Or, GRR can help source additional items tailored to an organization's special needs.
Founder, Leila Goldmark, understands the fundraising challenges faced by organizations big and small. "As a former not-for-profit environmental attorney, my organization needed to focus limited resources - money and staff time - on its core programs, not coordinating sales of fundraising merchandise," says Goldmark. "While a member may occasionally appreciate a branded hat or t-shirt, that option gets old. And available funds would be better spent on program operations, and not locked up in fundraising merchandise."
Ms. Goldmark also led her local PTA Green Team. "As the leader of the Green Team, I did not want to push 'conventional' trinkets on parents and struggled to find eco-friendly products for our fundraisers, to 'walk the walk' and help raise awareness about environmental issues," continues Goldmark. "As a working parent and volunteer, distributing forms, collecting paper orders, and coordinating delivery of goods was an overwhelming task."
Green Rainbow Revolution's fundraising program offers organizations access to eco-friendly merchandise, and allows fundraisers to better manage their upfront costs, ordering, and distribution tasks. It gives an organization's members and potential donors access to a wide variety of items that they actually want, and allows a portion of their shopping dollars to benefit an organization that they want to support without spending additional money. Green Rainbow Revolution makes the donation for them.
Old School Fundraisers: Receive a 25% Discount On Bulk Orders
Purchasing in bulk from Green Rainbow Revolution allows an organization to run its own fundraising event, set its own pricing, and potentially gain a higher profit margin for its fundraising efforts. This is a great option for organizations that want to set up at a live event, or that are interested in creating a fundraiser around a particular educational theme - for example, waste free lunches, safe art supplies for toddlers, or outdoor spring activities. Green Rainbow Revolution has products to choose from on its website, but can also provide recommendations and source additional items to fit an organization's particular needs.
Online Fundraisers 2.0: Earn 15% Donations / Commissions On Website Sales
Green Rainbow Revolution also offers an online, hassle-free option with the potential to earn recurring revenue over time. With this option, there is no need for a fundraiser to select items, place orders, or distribute goods for a one-time fundraising event. An organization simply needs to distribute a unique shopping ULR to its potential donors - post it on a website, distribute it in email or paper media - and earn a 15% donation (commission) on any sale made after clicking through the unique link. An organization's members can shop for items they actually want, and the organization receives a check. All it needs to do it spread the word.
###
Green Rainbow Revolution's mission is to provide the best product, cause no unnecessary harm, and use business to inspire and empower everyone to better our shared environment, creative arts, and diverse society – and have a heck of a good time doing it!
Leila Goldmark is an environmental attorney, parent, and advocate. She founded Green Rainbow Revolution to help other parents find modern, eco-friendly, and safe products for their families and to inspire creativity, innovation, and purpose in youth through play.