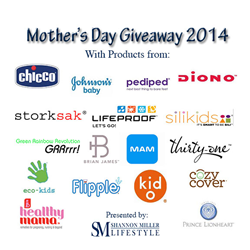 Enter the Mother's Day Giveaway by Saturday to win over $1000 in gifts for mom and baby!
Croton, NY (PRWEB) May 07, 2014
Green Rainbow Revolution is proud to partner with Shannon Miller Lifestyle and donate eco-friendly art supplies and toys for the 2014 Mother's Day Giveaway.
Whether a woman took the minimum amount of time off and is eager to get back to her career or she enjoyed taking an extended period at home, most moms probably feel a little bittersweet about making this transition. The products collected for the 2014 Mother's Day Giveaway were selected for their ability to make this transition back to work a little easier. Some of the items help make life a little more comfortable, some make things a little quicker in the daily routine, and some just make life a little less worrisome and a lot more fun.
More than $1000 in products will be given away! Along with Green Rainbow Revolution, these top-quality brands have donated products for the 2014 Mother's Day Giveaway: Brian James Footwear, Chicco, Cozy Cover, Dino Warm N Go Bottle Warmer, Flipple, Healthy Mama, Johnson's Baby, Lifeproof, MAM, Pediped, Prince Lionheart, Silikids, Stocksak, and Thirty-One Gifts.
Enter to win here: http://bit.ly/1okBogp. Entries must be submitted by Saturday, 12 PM EST.
###
Green Rainbow Revolution's mission is to provide the best product, cause no unnecessary harm, and use business to inspire and empower everyone to better our shared environment, creative arts, and diverse society – and have a heck of a good time doing it! GRR Founder, Leila Goldmark, is an environmental attorney, parent, and advocate. She founded Green Rainbow Revolution to help other parents find modern, eco-friendly, and safe products for their families and to inspire creativity, innovation, and purpose in youth through play.
Shannon Miller Lifestyle's mission is to inform, educate, and inspire women to lead a healthy and balanced lifestyle through our products and partnerships, motivational speaking, endorsements, radio show, and the Shannon Miller Walk-Fit Program. Shannon Miller is a world-renowned gymnast, Olympic medalist, and advocate for women and children's health.