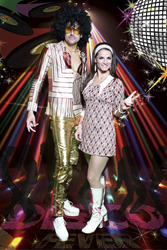 Onsite Green Screen Screen Photography integrated with Social Media is the new way of creating and engaing clients.
San Diego, CA (PRWEB) June 12, 2014
Onsite Green Screen Photography Services and Social Media Integrated is now being offered by Professional Images Photography tradeshows, conventions, events of all sizes and expos nationwide along with Convention Photography Services.
Increasing marketing opportunities through digital photography technology is in demand and Professional Images Photography clients are lining up for this unique and important service to create new leads or just engage with current clients.
A picture is instantly printed out in seconds and an email sent live with a branded message and photo attached. Attendee provides a twitter handle that is integrated with client's twitter message. The image is uploaded live to client Facebook onsite creates engagement and social metrics. This is the new frontier that makes the difference of just being noticed at any event, tradeshow, expo or convention.
Many groups are now using this service with flexibility and ease of integrating any background without the traditional waiting on the production of the large banner background is what makes green screen photography an attractive alternative.
Event photography is important to any organization that wants to spread their message, service or product. Professional Images Photography has the ability to create and deliver this service that benefits the client's need to capture leads in the form of emails, Twitter handles and Facebook likes.
Creating niche market products for the event industry helps Professional Images Photography stay on top. Developing sound social marketing tools that is integrated with photography can also change the way the company is perceived and driving new customers is critical in today's uncertain economy.
With any new product there is always speculation if it will succeed. Onsite Green Screen Photography Services and Social Media Integrated will always be here using green screen technology gives this service by Professional Images Photography new appeal and more variety to engage attendees, guests, or any target market.
About Professional Images Photography:
Professional Images Photography has been providing since 1987 Convention, Conference, Onsite Printing Photography, Onsite Green Screen Photography Services and Social Media Integrated and Event photography services and Convention Photography nationwide.