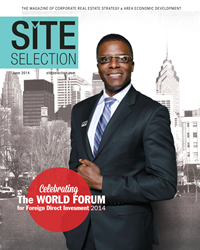 Onsite Printing Photography creates engagement at your events.
Philadelphia, PA (PRWEB) June 18, 2014
Green Screen Photography and Onsite Printing by Professional Images Photography was a huge hit during the World Forum 2014 in Philadelphia, PA. Integrating branded email to each photo that was printed onsite helped Site Selection Magazine engage with each attendee beyond just a take away photo. Branded email is a powerful tool to help any business communicate a product, brand or service. Attendees were given a choice of backgrounds that were in the format of a magazine cover using Philadelphia as the photo ops. A business card was requested and email was inputted after photo was taken. A message about Site Selection and World Forum's next year meeting was provided along with a suggestion to follow their brand was written.
The attendee was also given the photo in a form of a digital file delivered instantly. The email suggests sharing photo on attendee's social sites. Today's conferences require a different approach to collect vital contact information that boosts marketing efforts and ROI.
A spreadsheet of all attendee information is collected and cross-referenced with photos taken to deliver a concise and valuable list that goes a long way for marketing and sales. The importance of Onsite Printing using Green Screen Photography or just Onsite printing Photography with a static background is and should at all meetings, tradeshows, conferences and tradeshows.
Choosing the right company to provide this service is important to the success of collecting client information and cannot be taken lightly. Using dye-sub printers that are fast and having more than one dye-sub printers at events insures that no down time will happen and having more than one professional DSLR camera also guarantees that no set will be closed. Professional Images Photography specializes in Convention Photography and Onsite Printing Photography that helps Conventions, Associations and Conferences to retain and create new attendees.
About Professional Images Photography
Since 1987 Professional Images Photography has been providing the Convention Photography, Onsite Printing Photography, Green Screen Photography Nationwide. Based in San Antonio, TX with office in Houston, Orlando, Washington D.C. and Las Vegas, NV. 1.888.486.3241.