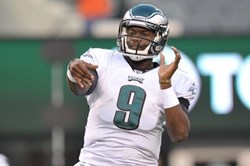 Green Bay, Wisconsin (PRWEB) August 07, 2013
In just a very short time of watching the two time pro-bowler quarterback work out with the team, the Green Bay Packers decided to give Vince Young a one-year deal with their prestigious franchise. Vince Young was drafted by the Titans in the 2006 draft, but has not played a game since 2011. He was NFL Offensive Rookie of the Year in his debut, and also joined the AFC Pro Bowl team that year when Phillip Rivers pulled out due to injury.
The Packers presently have two other players battling for the backup position; 28-year-old Graham Harrell and 24 year old BJ Coleman have both been fighting to play behind Aaron Rodgers. Now with the signing of Young, that competition got even fiercer. The Packers had other free agent options, but knew they had to move quickly with Young. He is more mature and experienced than the other players, and has already started in 47 NFL games.
Other than looking for a steady back up for Rodgers, the team will now have to search for a replacement for left tackle Bryan Bulaga. This past Saturday, the defensive player injured his knee in a scrimmage. The injury has recently been confirmed, and Bulaga will sit out of the entire 2013 season with a torn ACL. In replacing Bulaga, the Packers can move Marshall Newhouse to back or left tackle, or put in rookie David Bakhtiari.
The Packers also signed wide receiver Justin Wilson this week. Wilson is a rookie out of Delaware State. He participated in the Packers rookie orientation camp back in May, but on a tryout basis. The Packers finally decided they liked what they saw, and decided to sign with Wilson. Wilson will most likely come on to the team in place of the injured Sederrik Cunningham, who broke his wrist on the first day of training camp.
To buy a ticket to an exciting Packers game in Green Bay, Wisconsin, visit http://www.Greenbaypackers-Tickets.com. Greenbaypackers-tickets.com is the best site to find Packers tickets online, because you will never be charged for any extra fees! The customer service team is always available and helpful, in case you run into any questions about your purchase or a game. Customers that visit the site can also use the special Packers fan hub, where they can engage and interact with other Packers fans.