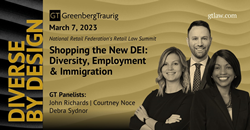 ATLANTA (PRWEB) February 27, 2023
As a leader in the legal issues affecting the retail industry and in diversity, equity, and inclusion (DEI) in the legal profession, global law firm Greenberg Traurig, LLP will sponsor and present a panel at the National Retail Federation Retail Law Summit March 7 at 2:30 p.m. entitled "Shopping the New DEI: Diversity, Employment, and Immigration."
The panel will discuss DEI from a different lens increasingly impacting the retail industry—diversity issues in employment and immigration—and how these three pillars interplay throughout the entire employment life-cycle, from recruitment and onboarding, to managing performance and conduct during employment, to separation.
The Greenberg Traurig panelists are:

John R. Richards, Global Co-Chair of the firm's Retail Practice—ranked Band 1 by Chambers USA Nationwide for 15 consecutive years—and a shareholder in Greenberg Traurig's Labor & Employment Practice in which he co-chairs the firm's DEI group and the Workplace Compliance & Counseling group.
Courtney B. Noce, Global Co-Chair of the firm' Immigration & Compliance Practice. She focuses her practice on U.S. business immigration, compliance and enforcement actions, as well as global immigration.
Debra Sydnor, Greenberg Traurig's director of Diversity, Equity & Inclusion.
To register for the free continuing legal education and Society for Human Resource Management credit-eligible web series for retail's legal, risk, compliance, and HR professionals, click here. The event will be recorded and livestreamed.
About Greenberg Traurig's Diversity, Equity, and Inclusion Initiative: From its inception, Greenberg Traurig has been committed to diversity, equity, and inclusion in the workplace. Greenberg Traurig is a uniquely empowering and diverse firm built on a foundation of fairness, equality, and authenticity. Through its Social, Racial, and Economic Justice Action Plan, the firm has committed $5 million over five years to help combat systemic racism and support impoverished communities. In addition, the firm's efforts have been recognized through its Mansfield Rule 5.0 Certification Plus, administered by The Diversity Lab, and by local, national, and global publications and organizations including Chambers and Partners. Web: https://www.gtlaw.com/en/general/our-firm/diversity Twitter: @GT_Drives.
About Greenberg Traurig: Greenberg Traurig, LLP has more than 2650 attorneys in 44 locations in the United States, Europe, Latin America, Asia, and the Middle East. The firm is a 2022 BTI "Highly Recommended Law Firm" for superior client service and is consistently among the top firms on the Am Law Global 100 and NLJ 250. Greenberg Traurig is Mansfield Rule 5.0 Certified Plus by The Diversity Lab. The firm is recognized for powering its U.S. offices with 100% renewable energy as certified by the Center for Resource Solutions Green-e® Energy program and is a member of the U.S. EPA's Green Power Partnership Program. The firm is known for its philanthropic giving, innovation, diversity, and pro bono. Web: http://www.gtlaw.com.