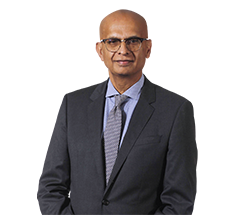 NEW YORK (PRWEB) January 05, 2023
Global Law Firm Greenberg Traurig, LLP expands its global Intellectual Property (IP) & Technology capabilities with the addition of Jayadeep "Jay" R. Deshmukh as a shareholder in the New York office. He joins from Kasowitz Benson Torres and previously served as senior vice president of Global IP at Ranbaxy Laboratories, an international pharmaceutical company.
Deshmukh brings over 20 years of experience representing major pharmaceutical and biotech companies in complex IP and patent litigation, focusing on both Hatch-Waxman Act litigation and the growing area of biologic and biosimiliar patents. Some of his notable litigation cases include representing a major cholesterol lowering generic and a biosimiliar of a leading biologic treatment for rheumatoid arthritis and Crohn's disease.
Deshmukh also regularly serves as settlement and Food and Drug Administration (FDA) counsel for smaller pharmaceutical companies, advising on exclusivity matters against the Office of the Chief Counsel of the FDA.
"Jay's experience will complement our already expansive life sciences and IP capabilities as we strategically further Greenberg Traurig's market dominance in these areas in response to our growing roster of clients who need sophisticated counsel on the evolving regulations in the industry. In addition, the firm's unique, far-reaching, and unified global platform, with offices in cities and countries on the cutting edge of research and technology, allows us to work seamlessly around the world, offering the best value and service to clients," Richard A. Rosenbaum, Executive Chairman of Greenberg Traurig said.
The biotech industry is increasingly playing a critical role in medicine, offering both revolutionary therapies and the treatment of formerly untreatable conditions. In addition, the Affordable Care Act's Biologics Price Competition and Innovation Act provides a faster pathway to market for biosimilars – versions of biologics that mimic the originals – ensuring patients easier access and more affordable treatments. As a result, there are now multiple biosimilars of each biologic competing for approval. The evolving landscape requires attorneys with Deshmukh's specific knowledge to guide clients through the patent process.
"Greenberg Traurig is known around the world for its leading pharmaceutical and biotechnology capabilities and we are thrilled to add someone with Jay's deep experience in Hatch-Waxman and biosimiliar patent litigation to our team," said Scott J. Bornstein, co-managing shareholder of Greenberg Traurig's New York office and co-chair of the firm's global IP & Technology Practice.
"I am excited to join Greenberg Traurig and collaborate with top tier professionals across the globe in locations at the forefront of biologic development such as New York, New Jersey, Boston, Washington, D.C., California, and Tel Aviv. With the firm's collaborative global culture, I can work efficaciously with a biotech company that developed a drug in one country and the manufacturer of that drug in another country. I know the possibilities to grow my practice and benefit my clients are limitless here," Deshmukh said.
Other recent Greenberg Traurig hires in life sciences and IP include Prashant Girinath and David S. Harburger in Boston, Jeffrey C. Giering in Orange County, David A. Gay and Michael L. Hebert in Los Angeles, and Charles J. Andres in Washington, D.C.
Deshmukh is recognized as a leading patent litigator by The Legal 500 and LMG Life Sciences. He received his J.D. from Case Western Reserve University School of Law, his M.S. from Cleveland State University, and his B.E. from Manipal Institute of Technology.
About Greenberg Traurig's Intellectual Property & Technology Practice: With more than 260 intellectual property attorneys and patent agents in the United States, Asia, and Europe, Greenberg Traurig provides a broad range of patent, trademark and copyright protection and strategic counseling. Greenberg Traurig was named a "National Tier 1" Law Firm for IP Litigation, Patent Law and Litigation, Copyright Law, Technology Law, and Information Technology Law by U.S. News and Best Lawyers, 2023 "Best Law Firms." In addition, Greenberg Traurig was named a "Law Firm of the Year" for Trademark Law in the 2020 and 2022 editions of "Best Law Firms." The BTI Consulting Group named Greenberg Traurig's IP Litigation Practice a 'Litigation Standout' in the "BTI Litigation Outlook 2023: Litigation Spending in the Uncertain Economy and Beyond."
About Greenberg Traurig's Life Sciences & Medical Technology Group: Greenberg Traurig's Life Sciences & Medical Technology Group advises clients ranging from start-ups to large multinational public companies to leading research institutions. The group's attorneys work closely with clients, providing innovative legal counsel to help them achieve their objectives – from discovery through commercialization and product marketing.
About Greenberg Traurig: Greenberg Traurig, LLP has more than 2500 attorneys in 43 locations in the United States, Europe, Latin America, Asia, and the Middle East. The firm reported gross revenue of over $2 Billion for FY 2021 and is consistently among the top firms on the Am Law 100, Am Law Global 100, and NLJ 250. On the debut 2022 Law360 Pulse Leaderboard, it is a Top 15 firm. Greenberg Traurig is Mansfield Rule 5.0 Certified Plus by The Diversity Lab and the Center for Resource Solutions Green-e® Energy program certifies that the firm's U.S. offices are 100% powered by renewable energy. The firm is often recognized for its focus on philanthropic giving, innovation, diversity, and pro bono. Web: http://www.gtlaw.com