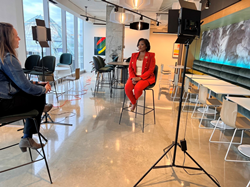 WASHINGTON (PRWEB) February 15, 2023
Johnine P. Barnes, chair of global law firm Greenberg Traurig, LLP's Washington, D.C. Labor & Employment Practice, was selected as one of the Washington Business Journal's 2023 Diversity in Business Award honorees.
The Washington Business Journal describes its honorees as influential business leaders from the Washington, D.C. area who "represent a wide range of backgrounds and industries, ranging from hospitality and tourism, tech and finance, as well as the education and nonprofit sectors."
"I am incredibly honored to receive this recognition. I want to thank the Washington Business Journal for recognizing the incredible contributions of diverse business leaders across the Washington, D.C. area, and it is humbling to be included among such an inspiring group," Barnes said.
"Greenberg Traurig is intentional and strategic in its diversity – and supporting incredible lawyers like Johnine is at the core of our success," said Greenberg Traurig Co-President and Washington, D.C. Office Chairman Ernest LaMont Greer. "I am thrilled for Johnine to be recognized as the leader that she is not only in her area of law, but for her dedication to making our clients better, the Washington, D.C. community better, and us, as a firm, better."
A special print section of the Washington Business Journal featuring this year's honorees will be available March 24.
Barnes has wide-ranging experience in her labor and employment practice. She is nationally recognized by the Legal 500 U.S. Guide for her counselling and compliance practice regarding employment laws, including but not limited to compliance with the Americans with Disabilities Act, the Family and Medical Leave Act, and other federal and state statutes governing employment issues.
In addition, Barnes is recognized by Lawdragon 500 as a Leading Lawyer in America, and as a Leading U.S. Corporate Employment Lawyer. She is experienced in litigating and defending employment claims of harassment, retaliation, discrimination, wrongful discharge, and breach of contract, as well as business litigation matters. She has experience handling non-compete agreement and contract disputes, trade secret matters, international disputes, white collar crime claims, property interest disputes, and legislative matters.
About Greenberg Traurig's Diversity Initiative: From its inception, Greenberg Traurig has been committed to diversity, equity, and inclusion in the workplace. Greenberg Traurig is a uniquely empowering and diverse firm built on a foundation of fairness, equality, and authenticity. Through its Social, Racial, and Economic Justice Action Plan, the firm has committed $5 million over five years to help combat systemic racism and support impoverished communities. In addition, the firm's efforts have been recognized through its Mansfield Rule 5.0 Certification Plus, administered by The Diversity Lab, and by local, national, and global publications and organizations including Chambers and Partners. Web: https://www.gtlaw.com/en/general/our-firm/diversity Twitter: @GT_Drives.
About Greenberg Traurig's Washington, D.C. Office: More than 100 attorneys strong, Greenberg Traurig's Washington, D.C. (GTDC) office is home to a multidisciplinary team of lawyers and government affairs professionals who help clients prepare for risk, respond to adversity, and influence the future. Our clients, who come from nearly every business sector and industry, trust GTDC to offer a wide range of legal services and to handle their most sensitive matters thoroughly, efficiently, and collaboratively. In our office we have former members of Congress and senior Congressional staff, former trial and regulatory attorneys from a spectrum of government agencies, and attorneys with decades of experience handling complex litigation, transactions, and regulatory matters. Our clients benefit from our deep collective knowledge of how government, business, and the law intersect. The office is further strengthened by its vast global presence, an active Pro Bono practice, a diverse roster of professionals, and a commitment to the D.C. community.
About Greenberg Traurig: Greenberg Traurig, LLP has more than 2650 attorneys in 44 locations in the United States, Europe, Latin America, Asia, and the Middle East. The firm is a 2022 BTI "Highly Recommended Law Firm" for superior client service and is consistently among the top firms on the Am Law Global 100 and NLJ 250. Greenberg Traurig is Mansfield Rule 5.0 Certified Plus by The Diversity Lab. The firm is recognized for powering its U.S. offices with 100% renewable energy as certified by the Center for Resource Solutions Green-e® Energy program and is a member of the U.S. EPA's Green Power Partnership Program. The firm is known for its philanthropic giving, innovation, diversity, and pro bono. Web: http://www.gtlaw.com.