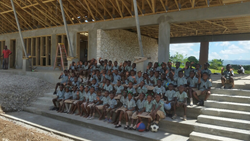 New York, NY (PRWEB) November 02, 2016
Global law firm Greenberg Traurig, LLP will receive the Hope Award for its long-standing pro bono and financial support of The Center of Hope (Haiti), Inc. (COHH) in the building of an orphanage and school complex in Hinche, Haiti. COHH will present the award to the firm's Chief Executive Officer Brian L. Duffy at its 11th Annual Gala in New York City on Nov. 2. Also, the first of COHH's four planned school buildings was dedicated to the firm in Haiti on Oct. 22.
"We are proud to be involved with this outstanding organization and are honored to receive this award," Duffy said. "Greenberg Traurig's support of Center of Hope (Haiti) is an excellent example of the firm's commitment to pro bono work and to improving the lives of children everywhere."
Since 2004, a team of Greenberg Traurig attorneys, led by New York Shareholder Daniel J. Ansell, Chair of the firm's Real Estate Operations Department, has assisted COHH with legal issues related to the creation and operation of the orphanage and, now, its elementary school.
"Greenberg Traurig has been our partner for over 12 years," said James L. Lipscomb, COHH Advisory Board Chair. "The firm's legal and financial support and Dan's wise leadership over this time has been a significant contributor to our success including our ability to bring our school project from a dream to a reality."
"Center of Hope (Haiti) reminds us all how important it is to continue to give back to others, particularly during these challenging times," Ansell said. "The volunteer work Greenberg Traurig has done shows that our efforts can have a significant positive impact – namely by giving countless children the opportunity to attend school and learn."
COHH is a not-for-profit corporation formed for the purpose of developing and operating an orphanage in Hinche, Haiti. When completed, the orphanage complex, currently under construction, will consist of an orphanage for up to 100 children, an elementary school for up to 200 children, a vocational school, and a medical clinic. COHH, through a volunteer board of directors and officers, coordinates resources, including volunteer services and contributions, in support of the orphanage.
About Greenberg Traurig, LLP
Greenberg Traurig, LLP is an international, multi-practice law firm with approximately 2,000 attorneys serving clients from 38 offices in the United States, Latin America, Europe, Asia, and the Middle East. The firm is No. 1 on the 2015 Law360 Most Charitable Firms list, second largest in the U.S. on the 2016 Law360 400, Top 20 on the 2015 Am Law Global 100, and among the 2015 BTI Brand Elite. More information at: http://www.gtlaw.com.