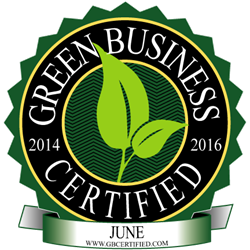 This is a new standard for success and a framework for excellence.
Arlington Heights, IL (PRWEB) June 23, 2014
Aurico is proud to announce that it has met the standards as set forth by the Institute for Green Business Certification (IGBC) in order to be certified as a "Green Business". In order to earn this award, Aurico has demonstrated business practices that promote a sustainable lifestyle.
Aurico Reports, Inc., a background screening and drug testing company, in business since 1991, is known for its industry leadership and cutting edge technology. So it makes sense that Aurico is also on the forefront of sustainable business practices.
"This is a new standard for success and a framework for excellence," said Ben Goldberg, President of Aurico. "We are proud of our focus on sustainability and know it will bring more value, more ROI, more satisfied customers, more productive employees, and a better future for our community as a whole."
In order to earn the Green Business Certification, Aurico demonstrated that it is an environmentally conscious business. Over time it has been implementing initiatives to lower energy consumption and improve economies of scale. As with its products and services, it has created innovative ways to introduce sustainability into its operation.

Dedication to a paperless environment by building the award-winning WebACE™ Screening Platform. Cloud based architecture supports electronic file cabinet, e-signature, digital documentation, and web-based training.
Located premises in Arlington Heights, IL across from the public transportation system, METRA in order to reduce employee and partner travel and subsequent greenhouse gas emissions.
Created and launched numerous initiatives to reduce electricity including its office network design, use of webinars and other remote tools for training and communication purposes, and conversion of documents to electronic archive.
Annual audit of indoor air quality to reduce emission footprint.
Aurico is committed to the development and implementation of policies and procedures that build a safer, healthier world. It recognizes that a secure future embraces responsible corporate citizenship through effective energy management, investment in appropriate ventures, and the integration of energy efficiencies into operations. In collaboration with customers, partners, employees, and stakeholders, they are a company that consciously chooses to make a positive impact on the environment and work to safeguard the health and welfare of future generations.
About Aurico: Aurico is an NAPBS accredited and ISO 9001:2008 certified background screening and drug testing company. As a certified veteran-owned business (VOSB) with over 23 years of experience, Aurico provides clients with high quality screening, compliance tools, paperless solutions and is nationally recognized on HRO Today's Baker's Dozen Customer Satisfaction list of top screening providers two years in a row. Their award-winning WebACE™ technology is pre-integrated with the premier applicant tracking systems for efficient integration. As a winner of the 2014 BBB Torch Award for Marketplace Ethics, Aurico exemplifies the highest standards in ethical behavior and business practices towards their customers, employees, and communities.