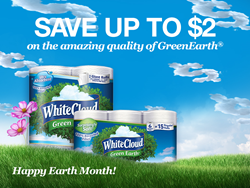 Bentonville, AR (PRWEB) April 14, 2014
White Cloud® GreenEarth® products make it easy for consumers to save a little green and go green during Earth Month. GreenEarth Bath Tissue and Paper Towels are made from 100 percent recycled paper and maintain the same exceptional quality and value as other White Cloud paper products. Consumers can save even more on the already affordable price of White Cloud GreenEarth with a coupon for up to $2 off any GreenEarth product.
Consumers can print a high-value coupon for up to $2 off the White Cloud GreenEarth product of their choice by liking White Cloud on Facebook and sharing the offer out to their social networks. Consumers that do not wish to share the offer can simply print a $1 off coupon for the same products.
White Cloud knows families often want to do their part to help the environment but cannot always sacrifice their budgets to do so.
"Bath tissue and paper towels are household necessities," said Nadia Durasamy, Marketing Manager – Consumer Business USA & Mexico. "Bringing White Cloud GreenEarth Bath Tissue and Paper Towels into their homes is a convenient, inexpensive way for consumers to make a positive impact on the environment while still providing the best for their families."
White Cloud GreenEarth Bath Tissue retails for $3.98; the Paper Towels retail for $2.97. With a $2 off coupon, consumers can get one 6-triple roll pack of bath tissue for $1.98 and one 2-giant roll pack of paper towels for $0.97.
About White Cloud®
White Cloud® gives families everyday comfort with products made with quality and value. White Cloud Bath Tissue, Facial Tissue, Paper Towels, GreenEarth® products and Laundry Care are available at Walmart®. For more information on White Cloud, visit http://mywhitecloud.com/ and follow White Cloud on Facebook, Twitter and Pinterest.