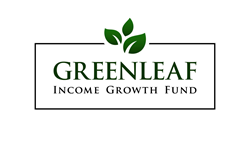 Cleveland, OH (PRWEB) November 03, 2014
Greenleaf Income Growth Fund, based here, launched today. The fund's primary objective is to seek increasing dividend income over time and its secondary objective is capital appreciation.
Greenleaf Income Growth Fund will trade under the ticker symbol GIGFX.
The lead portfolio manager is Geofrey Greenleaf, a Chartered Financial Analyst with more than three decades of experience as an investment manager. He is Chairman and Co-Founder of Private Harbour Investment Management and Counsel, LLC and was previously employed by Merrill Lynch and McKinsey & Company.
Rakesh Mehra is a portfolio manager and is also a Chartered Financial Analyst. He is Managing Member of New Frontiers Advisory Group, LLC and is Founder and President of RM Investment Management, Inc., an investment advisory firm. He has been engaged in managing portfolios of individuals, trusts, retirement plans and corporations for more than 20 years including employment with Greenleaf Capital Management.
--
Investors should consider the investment objectives, risks, and charges and expenses of the Fund carefully before investing. The prospectus contains this and other information about the Fund. You may obtain a prospectus by calling the transfer agent at 1-888-511-4340. The prospectus should be read carefully before investing.
Past performance does not guarantee future results. The investment return and principal value of an investment will fluctuate so that an investor's shares, when redeemed, may be worth more or less than their original cost.
The Principal Risks of Investing in the Fund
The risks associated with the Fund, detailed in the Prospectus, include the risks of investing in common stocks, growth stocks, real estate investment trusts (REITs), master limited partnerships (MLPs), options, foreign securities, exchange traded funds (ETFs), closed-end funds, and small and medium capitalization companies. The fund invests in common stocks which subjects investors to market risk. Growth stocks will be more volatile than value stocks and such earnings growth may not occur or be sustained. REITs are subject to risks associated with real estate. A REITs performance depends on several factors, such as its ability to find tenants, renew leases and finance property purchases and renovations. Investments in securities of an MLP involve risks that differ from investments in common stock, including risks related to limited control and limited rights to vote on matters affecting the MLP, tax risks, risks related to potential conflicts of interest between the MLP and the MLP's general partner, cash flow risks, dilution risks and risks related to the general partner's right to require unit-holders to sell their common units at an undesirable time or price. The use of options may magnify the increase or decrease in the performance of the Fund, and may also subject the Fund to higher price volatility. The Fund may invest in foreign securities, including American Depositary Receipts (ADRs) which involve greater volatility, political, economic and currency risks and differences in accounting methods. The Fund will incur higher and duplicative expenses when it invests in ETFs. The shares of closed-end funds may trade at a discount or premium to, or at, their net asset value.
Distributed by Rafferty Capital Markets, LLC Garden City, NY 11530, Member FINRA.