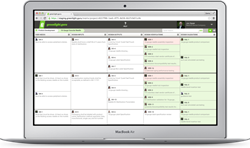 Using the greenlight.guru platform has enabled us to better implement our quality system across the company and accelerate our product development.
Indianapolis, IN (PRWEB) February 12, 2015
greenlight.guru announced the public release of its cloud-based quality management software exclusively for the medical device community. greenlight.guru allows medical device manufactures to bring products to market faster while reducing risk by providing them a integrated quality system that is easy to use and designed for regulatory compliance.
CEO and co-founder, Dave DeRam shared feedback from a recent call, "To have a single source of truth for making design decisions and standing up to an FDA audit is a game changer within the industry." He continued, "Our customers recognize getting products to market with less risk, more features, ahead of the competition and with better patient outcomes is key to capturing market share."
greenlight.guru released its alpha version to a small group of early adopters in March of 2014 with the goal of gathering valuable user insight. On November 3rd, its beta version was released privately and has been well received by emerging and mid-stage medical device companies, which according to industry statistics, represent more than 80% of the US medical device companies, under an annual SaaS subscription model.
From the first line of code, the software was designed for the unique regulatory and compliance aspects of bringing a device to market. Greg Sommer, CEO & Co-founder of Sandstone Diagnostics Inc., a customer of greenlight.guru – "Using the greenlight.guru system has enabled us to better implement our quality system across the company and accelerate our product development."
Surprisingly, but like many leading industries, a recent industry benchmark survey stated that in most major functional product areas, more than 50% of respondents confirmed still using manual, paper-based processes. Jesseca Lyons, Product Development Engineer at Catheter Research Inc., stated, "greenlight.guru makes it much easier to organize everything I need for medical device product development. It's great being able to quickly and easily modify everything – especially user needs and inputs. The best part is that every time requirements are modified or changed, it takes little effort on my part to maintain traceability."
greenlight.guru recently closed a $1.25 mil seed round which was oversubscribed from a group of undisclosed individual angels. With greenlight.guru's team tripling in size in 2014, use of capital will remain focused on broadening engineering talent, continued product development, and expanding customer acquisition initiatives. Jason McKibbin, greenlight.guru's COO explains, "The single biggest risk a medical device company faces is the FDA. Now that we've set course to change the way the industry thinks about bringing products to market, we're going to help them significantly lower that risk."
greenlight.guru's next major scheduled release is this Spring and will focus on an elegantly simple approach to extending risk management more thoroughly throughout the entire product lifecycle. Co-founder and VP of Quality Assurance & Regulatory Affairs Jon Speer stressed the importance of user feedback. "Our team conducted over 200 peer-to-peer interactions, and if there was one area that surfaced in almost every conversation it was the importance of identifying risk early on in the design process."