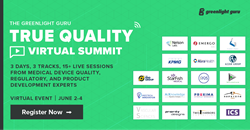 "Hosting a virtual summit will allow us to safely offer a unique opportunity to bring together our customers, partners, employees and communities to find clarity in knowledge and expertise through an endless source of education, connections and inspiration."
INDIANAPOLIS (PRWEB) May 06, 2020
Greenlight Guru, the med-tech industry's leading medical device quality management software (MDQMS) platform, today announced The Greenlight Guru True Quality Virtual Summit, a completely free and online summit providing attendees an opportunity to learn actionable tips, trends and best practices to achieve True Quality for their medical devices and business. The summit will take place on June 2-4, 2020.
Quality is a vital component in every stage of the medical device lifecycle and Greenlight Guru is committed to supporting customers and the community of medical device professionals through these trying times. During the True Quality Virtual Summit, industry professionals will have an all-access pass to a three-day, three-track event providing actionable takeaways to help innovate faster, stay ahead of industry regulatory changes and use quality as their strategic advantage to grow their businesses.
"Our mission is to help improve the quality of life by helping device makers imagine, introduce and advance higher-quality devices faster, with less risk. The coronavirus has led to increased attention to medical devices worldwide, making it even more important that the industry gets things right the first time," said Jon Speer, founder and VP of QA/RA at Greenlight Guru. "Hosting a virtual summit will allow us to safely offer a unique opportunity to bring together our customers, partners, employees and communities to find clarity in knowledge and expertise through an endless source of education, connections and inspiration."
The three tracks focus on product development and executive leadership to regulatory compliance and generally helping those facing uncertainty and searching for clarity during the pandemic. More details are included below:
June 2, 2020: Track 1 – Go: What You Need to Know to Get New Devices to Market with Less Risk
June 3, 2020: Track 2 – Grow: How to Advance the Success of Your Devices Already on the Market
June 4, 2020: Track 3 – COVID-19: Practical Insights into Managing and Leading Medical Device Companies and Teams During the Pandemic
The Greenlight Guru True Quality Virtual Summit is sponsored by various industry-leading organizations to help present the most rounded experience possible. Sponsors include AcKnowledge Regulatory Strategies, Alira Health, Azzur Group, EMERGO by UL, Galen Data, ICS, Kapstone Medical, KPMG, MedTech Innovator, Nelson Labs, Priority Designs, Proxima CRO, Rook Quality Systems, StarFish Medical, The RND Group, Two Harbors Consulting, Vascular Sciences, and Velentium
For more information or to get your free ticket to The Greenlight Guru True Quality Virtual Summit, visit: https://virtual-summit.greenlight.guru/
About Greenlight Guru:
Greenlight Guru is the only quality management software platform designed specifically for medical device companies. The platform helps companies bring safer products to market faster, simplifies FDA and ISO regulatory compliance and provides a single source of truth by connecting the management of all quality processes like CAPAs, risk, audits and more. Greenlight Guru's platform is used by thousands of users across the globe to push beyond baseline compliance and achieve True Quality for their medical devices. For more information, visit http://www.greenlight.guru.
Media Contact
BLASTmedia for Greenlight Guru
Kate Johnson, 317.806.1900 Ext. 144
Kate_johnson@blastmedia.com