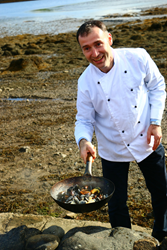 We can't imagine a more powerful way to give back during the holiday season and wish the world Happy New Year!
Vienna, Virginia (PRWEB) November 12, 2014
Greenloons, which helps people source the green vacation adventures of their dreams, outlines five themed destination ideas for families that want to give the gift of sustainable travel as well as give back to local communities this Holiday season.
"Having these sustainable lifestyle options top of mind during the Holidays are an exhilarating and positive way to help families reconnect with nature and with each other," said Irene Lane, founder of Greenloons.
Her recommended list includes:
Connect with your Irish heritage along the new Wild Atlantic Way coastal route. Learn Irish inland and coastal traditions, try local delicacies along the Burren Food Trail and explore the region via a sea kayaking, biking and bird watching excursions as well as through geology, nature and history lessons. The West of Ireland Adventure is priced from $3,450 per person including seven night's accommodation, meals, and activities. Dates are flexible.
Experience an eco-architectural masterpiece at the Southern tip of the Andes where Torres del Paine National Park, a World Heritage Site, offers trekking with the comfort of eco-chic geodesic domes built to take in solar and wind energy. The Patagonia Wildlife Safari is priced from $1,500 per person including four night's accommodation, transport, meals, and activities. Dates are flexible.
Help preserve a bird species habitat on the isolated Osa Peninsula in the southern corner of Costa Rica, one of the most bio-diverse regions of the world. Here, the 42,000-hectare Corcovado National Park, is home to almost 400 species of birds and 140 species of mammals. Staying in the area supports Costa Rica White Hawk Project with a mission to purchase land so it remains untouched and accessible to the hawks, falcons, toucans, hummingbirds and other bird species that are found in this ecosystem. The Hummingbird Package is priced from $1,140 per person including four night's accommodation, transport, meals, and some activities. Dates are flexible.
Learn about an endangered wildlife species with a naturalist guide on an exclusive tour along Australia's Great Ocean Road that combines a stay at an eco-lodge serving organic meals and providing guided bush walks that allow guests to observe kangaroos, koalas and birdlife. Mornings, guests join the conservation team in vital research into koalas and endangered tiger quolls, assist with habitat restoration or care for injured and orphaned wildlife and species recovery programs. The Conservation Insight experience is priced from $1,600 per person including two night's accommodations, meals, transportation, volunteer conservation experiences, and guided wildlife walks. Dates are flexible.
Visit a U.S. National Park housed within a Native-owned wildlife sanctuary offering views of Pedersen Glacier. The rugged beauty of Alaska's spectacular seacoast and abundant marine wildlife are woven into the creature comforts of private cabins, a cozy main lodge and hearty meals with gourmet flair. The Grand Alaska Journey is priced from $6,695 per adult including nine night's accommodations, meals, activities, transportation. Dates are flexible.
About Greenloons
Greenloons is a premier online travel resource dedicated to inspiring people to think different, be different and travel different – in ways that help to ensure a more sustainable planet. In addition to being a recent recipient of National Geographic Traveler magazine's 50 Tours of a Lifetime, Greenloons is an advocate of social empowerment, financial viability, and environmental preservation connecting mindful travelers with unique and eco-certified travel experiences all over the world.